Tommy Speaker remembers the day a big four-door car pulled around to the back of his grandfather's gas station on Route 66 in Lebanon. Three or four people, one of them a woman, got out. They placed violin cases on a picnic table and laid down on the grass to rest. Tommy's grandfather, Tom Bacon, suspected that the violin cases carried Tommy guns, and that the visitors were Pretty Boy Floyd and his gang.
"My grandfather said, 'Tommy, you go to the house right now. Don't run, and don't look back.'"
Speaker, then a youngster, looked back anyway and saw the car's passengers in the back yard while his grandfather reached for the phone.
"I don't know the details, but I know he called (Sheriff) Sam Allen and told him Pretty Boy Floyd was here," Speaker recalls. "Sam told him just to leave them alone. 'We're not coming.'" (That Sam Allen, Laclede County sheriff from 1925 to 1928 and again from 1933 to 1936, was grandfather of the Sam Allen who works for the sheriff today.)
Speaker doesn't remember if Pretty Boy Floyd bought gasoline, but his grandparents did make sandwiches for the gang.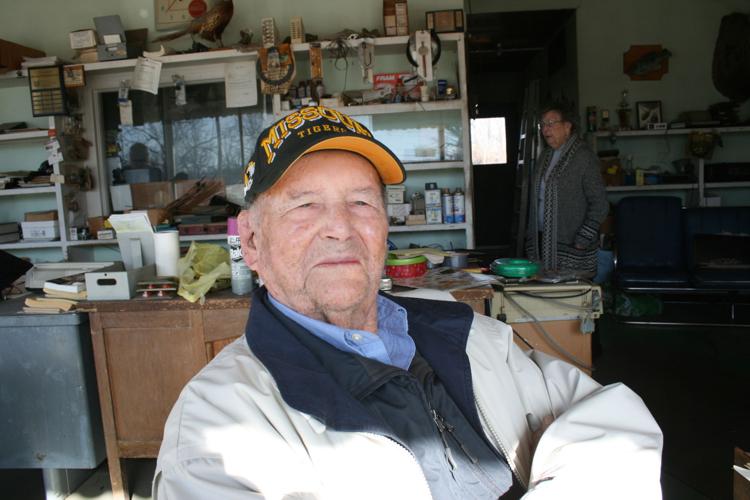 Speaker's Mobil, sometimes called Speaker's Station, has been closed since the late 1990s, but Tommy Speaker, 92, and sister Lena England, 88, still go to the station every weekday in case someone needs an old propane part – the family also was in the propane business – and, when friends drop by, to swap stories like the one about notorious bank robber Pretty Boy Floyd.
Though the gas pumps are gone, Speaker's Mobil may be Lebanon's only Route 66 landmark on land owned by the same family since Route 66 was built.
Their grandfather Bacon opened the first gas station a few feet west of the current station about the time Route 66 – originally designated State Route 14 – came through Lebanon in 1926. Lena says that at the time, Bacon owned all the land from just west of the station east to where the Forest Manor Motel is today.
Besides selling Shell gasoline, Bacon and his wife Lizzie sold sandwiches -- bologna and cheese was a favorite -- to travelers. They also rented out four or five tourist cabins that stood perpendicular to Route 66 along the east side of the station.
"He rigged up a tank in the back of the station, on the roof," Lena says about her grandpa. "The sun would heat the water." Overnight visitors then could take hot showers in the bathrooms of the gas station. The availability of showers, however, depended on the weather. "In the wintertime, he had to drain it," she adds.
Tommy began hanging around the station at a young age. He shares a photo of himself as a young boy, probably about 4, leaning against one of the brick columns supporting the station's canopy. Route 66 in Laclede County was paved with concrete between 1928 and 1930, and his first memory of the highway was the concrete surface. "I can't remember when it was gravel," he says.
One of Tommy's first jobs at the station was filling up the one- and two-gallon kerosene cans customers brought in. The kerosene was used for lamps and cook stoves. "I cranked up the kerosene once in a while in the kerosene cabinet," he recalls. "You had to crank it so many times to fill up a gallon."
In those days, Bacon's Station was just outside Lebanon's city limits, which were at the "Our Town, Your Town" arch on Millcreek Road. "I can remember when they plowed all the fields over here," Tommy says, pointing to east of the station. To the west of the station, where Millcreek Road today curves away from Route 66, a competing gas station sold Standard Oil products. A Phillips 66 station was across the street.
Business was good as traffic on Route 66 grew, though not all the traffic in the early days was motorized. "It was still horses and wagons, too," Lena recalls. "The farmers still came in with their horses and wagons."
In 1933, Bacon's son-in-law, Thornton Theodore Speaker, better known as "T.T." or "Thorny," took over operation of the station. On the advice of J. Ward Owen, owner of Lebanon's Dodge garage, Thorny Speaker switched his supplier to Socony-Vacuum Oil Co., which sold its petroleum products under the trademark Mobiloil, later shortened to Mobil.  "J. Ward Owen told my dad, 'Thorny, you better go with Mobil, that's a going outfit,'" Tommy says.
Thorny built a business that was more than a gas station. "He wasn't just a dealer, he became a distributor of Mobil products," Tommy explains. Thorny Speaker formed Home Oil Co., which through the years sold and delivered gasoline, diesel fuel, fuel oil, hydraulic oil and industrial oil by the truckload.
"That was a business nobody thought we had," Lena says, adding that they ordered barrels of industrial oil at a time.  In later years, Detroit Tool was a big customer. So was Tunnel Dam on the Niangua River, the first hydroelectric facility in the state.
"My older brother was in business for Dad driving a truck to Fort Wood," Tommy says. Dale Speaker delivered diesel fuel for the bulldozers building the fort. Dale's time with the family business ended tragically when he drowned in 1943 at age 20.
Lena says Home Oil Co. also had "a huge farm business from Richland to Conway."
One of Home Oil Company's truck drivers was Cliff Claxton Sr., who drove a big transport for the Speakers for 25 years. "Best driver we ever had," Lena says. "He was great."
Another brother, Teddy, started a propane business with Tommy in 1967. The propane business continued until 2004. Teddy Speaker died in 2016.
Back at the gas station, Tommy remembers pumping the old gravity-feed gas pumps. He also remembers that when electric pumps began replacing them, they could afford to buy only one to start. By the time Tommy returned in 1946 from two years in the U.S. Navy during World War II – he was drafted out of Lebanon High School – both pumps were electric.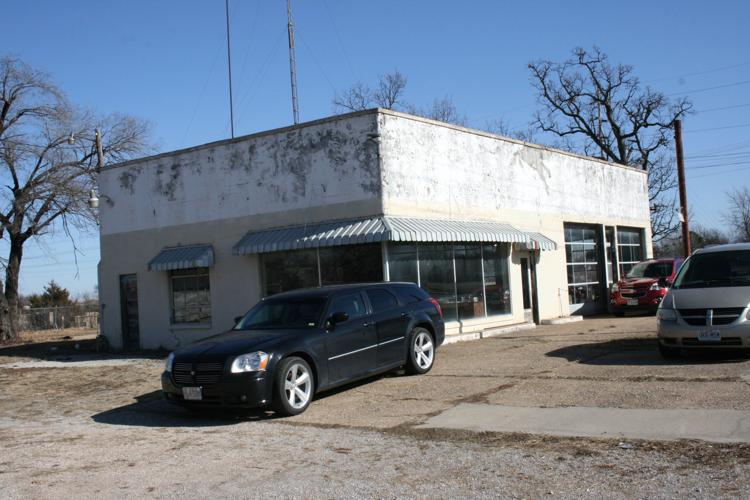 Thorny Speaker liked to build, Tommy says, and in 1952 he built a new concrete-block service station with a two-bay garage a few feet east of the old one. He would build other gas stations, too.
Speaker's Mobil still had a lot of business, but it was a challenging time. "I don't know the volume – it wasn't that big – but there were a lot of service stations," Tommy says. And gas wars would force prices down so low it was hard to make a profit. "That really messed you up."
Then came 1957 and the opening of four-lane New Route 66, soon to be renamed Interstate 44. Cars and trucks traveling across Missouri no long passed in front of Speaker's Mobil and its local Route 66 competitors.
"It more or less just stopped business at that particular time," Tommy says. "Several stations started going out."
But Speaker's Mobil served customers four more decades, beyond Thorny Speaker's death in 1977 and even beyond Mobil pulling out of the region in 1987, forcing the Speakers to buy gasoline on the spot market.
By 2008, when Home Oil Co. closed, the Speakers had shuttered all their businesses. The gas pumps and storage tanks were removed.
"We got out because of government regulations," Tommy explains. "It was just too much."
He jokes: "We didn't close up. We just kind of fizzled out."
 "We're still fizzling," Lena adds with a laugh.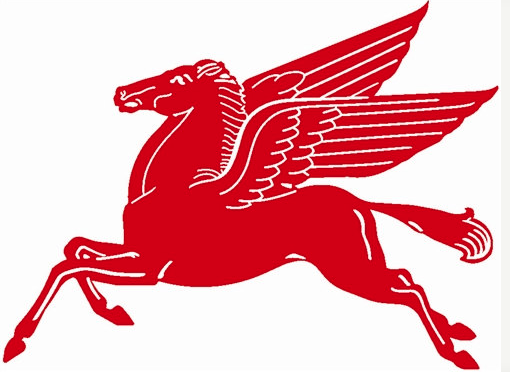 The famous Mobil Pegasus – a flying red horse – remained on the building, Tommy says, until "we had a fast-talker one day who wanted to buy the Pegasus. So we took it down."
But the "fast-talker" was persistent, and eventually the Speakers sold the sign for $1,600.
"Just a short time after that, we found they sold for $5,000," Tommy laments. "We should've kept it.
"But, really, it wasn't ours. It was Mobil's."