They were called "public enemies" -- gangsters whose crimes were so notorious, so well-publicized across the nation that they became celebrities. And sometimes public enemies like Bonnie and Clyde and Pretty Boy Floyd were seen traveling Route 66 in Laclede County.
For example, all three spent several memorable days at Camp Joy in Lebanon. Siblings Joy Spears Fishel and Clark Spears, whose parents and grandparents owned the popular Route 66 cabins, wrote about the visit for the Winter 1995 issue of Show Me Route 66 Magazine:
"They had been staying at the court for two or three days. We had no idea who they really were, but we had noticed that their behavior was a bit strange. They never moved their car out of the 'drive-in' garage. Only one at a time would come out, go for food, and go back inside their unit. Working on a tip, the county sheriff and his men came to investigate. A shootout at Camp Joy was just narrowly averted, for Bonnie Parker and Clyde Barrow and Pretty Boy Floyd had left only an hour before!"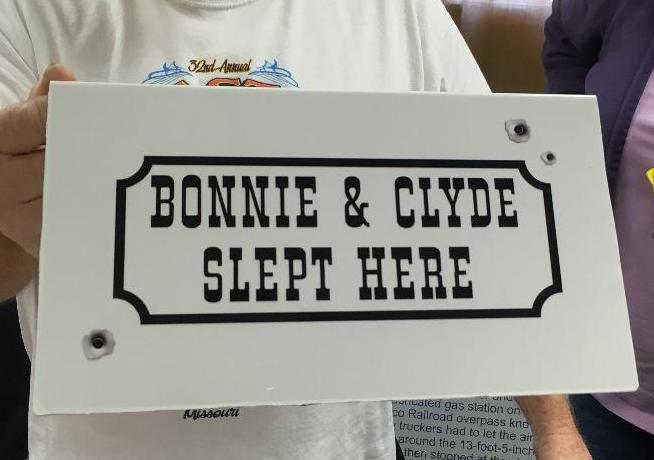 A bullet-riddled sign reading "BONNIE & CLYDE SLEPT HERE" rests atop the bed in the restored Camp Joy cabin at Route 66-themed Boswell Park.
Bonnie and Clyde also slept at the Midway Camp on Route 66 just outside Phillipsburg. Ruthlene Shank Calton, whose parents operated the tourist court for several years, told the story in the same Winter 1995 issue of Show Me Route 66 Magazine:
"One time we had three guests come in that appeared to be just ordinary people, but later we found out that they were Bonnie Parker, Clyde Barrow, and Clyde's brother. They rented a cabin for the night, parking their car in the enclosed garage. Clyde signed the register, but I don't remember what name he used, although it was an alias. The small one-room cabin seemed to please them. They were all well-mannered, and seemed to be very appreciative. Later, they came down to eat 'supper' and were very complimentary of my mother's cooking. The next morning the men came down for breakfast, but carried Bonnie's food back to the cabin. Later, my father, who 'never saw a stranger' teased Bonnie saying, 'That's the way with these lazy women, the men have to serve them breakfast in bed.' She laughed, and replied, 'But we're worth it!' As they left, father noticed something strange: Bonnie lit up a cigar and began smoking it! They had been gone less than an hour when a state trooper came by looking for them. Not long after that, they were killed in a shootout."
Bonnie and Clyde were considered the most-notorious customers of the Harris Café, "The Home of The Little Round Pie," on Route 66 in Conway.
Some sources say Bonnie and Clyde once napped at Bacon Station, later Speaker's Mobil, in Lebanon.
The sheriff advised people to "leave them alone, and they will move on. . ."
In a 2018 interview, Tommy Speaker remembered the day a big four-door car pulled around to the back of Bacon Station, owned by his grandfather. Three or four people, one of them a woman, got out. They placed violin cases on a picnic table and laid down on the grass to rest. Tommy's grandfather, Tom Bacon, suspected that the violin cases carried Tommy guns, and that the visitors were Pretty Boy Floyd and his gang.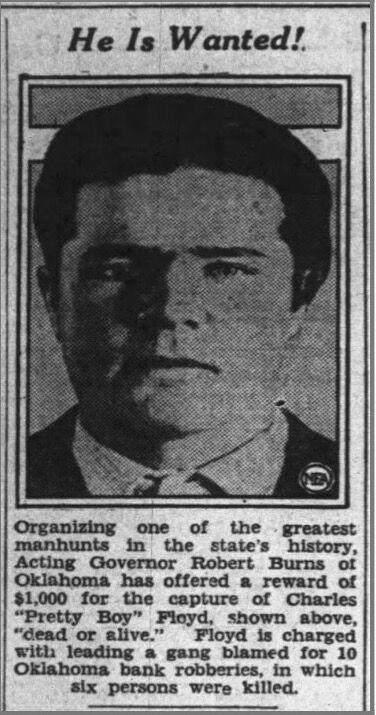 "My grandfather said, 'Tommy, you go to the house right now. Don't run, and don't look back.'"
Speaker, then a youngster, looked back anyway and saw the car's passengers in the back yard while his grandfather reached for the phone.
"I don't know the details, but I know he called (Sheriff) Sam Allen and told him Pretty Boy Floyd was here," Speaker recalls. "Sam told him just to leave them alone. 'We're not coming.'"