My name is Wallace S. Moye and I grew up along this road. In fact, I started growing before it was known by any of these names. I was born June 1, 1918, at Brush Creek in Laclede County, Missouri. This place, owned by my Grandfather Speakman, was a small store and post office six miles west of Lebanon, Missouri, on the Frisco Railroad. Brush Creek was about two miles north of this yet to be famous road. At the time it was called The Old Wire Road. Some identified it as The Springfield Road. In the early days, if was the trail that freight haulers used between the railhead at Rolla and Springfield. It also was the route used by the Butterfield Stage Coach carrying mail and passengers. The old log house on the Bert Benton farm, near Lonesome Hill Cemetery, was used as a stage coach office. Spent horses were exchanged for fresh ones to take the stage on its way. It is said soldiers used this trail during the Civil War.
In 1910, Sam and Katy Moye along with their children, Melvin, Wallace (my father) and Marie moved from Osborne, Kansas, to a 200-acre farm along the Old Wire Road. This farm was about eight miles southwest of Lebanon and five miles northeast of Phillipsburg, Missouri. The road split the farm, about 55 acres on the north side and about 145 acres on the south side. During the winter and after rains, the road would be rutted and Grandfather Sam would have Wallace smooth out the road with a drag made from two good-sized logs nailed together with boards and pulled with two horses. My Dad would do this as often as was needed along in front of the Moye farm.
In about 1922, a man by the name of Ted Snyder, from the Missouri State Highway Department, asked Dad if he would be interested in working for the state as a maintenance man. Dad decided he would try it for a while and thus became the first maintenance man between Lebanon and Phillipsburg for the State of Missouri. Bill Minnick was hired to do the same from Phillipsburg to the Laclede-Webster county line southwest of Conway. They used a drag made from heavy timbers bolted together, with a metal blade on the front pulled by two horses.
Soon the Old Wire Road had a number. It was called Route 14. I can remember seeing this number painted on the ends of concrete culverts. As time went on, Dad and Bill Minnick were furnished with small graders to use instead of the road drags. They were called Pony Patrols. It took more than ponies to pull it though. Dad used two big horses. Sometimes he used three horses and when moving snow he would use four horses. Besides grading the road, Dad fixed plank bridges, patched the road, cleaned ditches and many other things.
I remember one time when Dad was repairing a plank bridge near the Sturdevant farm and Lisk Hill. I got to go along for the day. Early harvest apples were ripe and Momma let me take along a few to sell to the people passing along. I would call out, 'Apples, three for a nickel!!; I recall a Negro family stopped and bought several of my apples.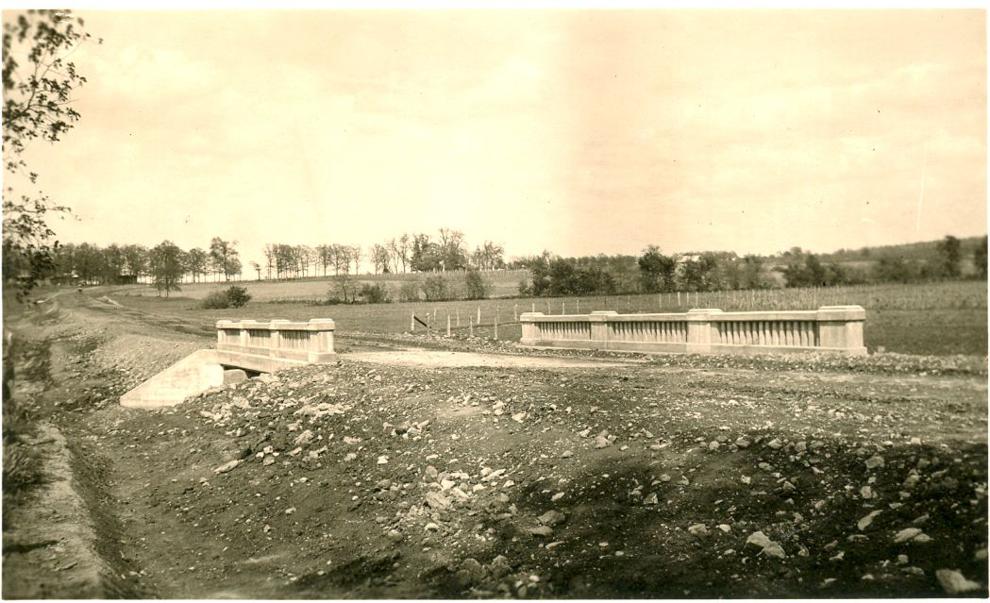 About a half mile east of our farm was a place called the Hurd Flat. When it rained the water seemed to just stand there and never drain away or soak in. The road there was always rutted and muddy. Many people became stuck as they traveled through this spot. Dad would be called on to take his team of horses and help them through. Floyd Jones, founder of Ozark Air Lines, started a bus route from Lebanon to Springfield. Sometimes the bus needed help getting through the Hurd Flat. My wife, the former Elizabeth Twomey, remembers that her cousin, Joe Daugherty, was the bus driver. When the road became Route 66, a ditch was made from the Hurd Flat for about a quarter of a mile and the water from the Hurd Flat drained into the Hint Holler.
Gypsies traveled the road in those days. Many times they would camp at Liberty Church just down the road from us. They would come to our house for water and anything else they could beg for or sometimes steal. We children and Momma were sort of afraid of them.
As time went on, Route 66 was improved and upgraded. There was a slogan, "Get Missouri Out of the Mud!" The Federal Government was trying to get a movement to establish a Federal Highway system with cooperation from the different states. Route 14 became Route 66 in 1926.
The Pony Patrol grader pulled by horses was replaced with a motor grader. It seems to me it had solid rubber tires on the wheels. Dad now maintained the road from Lebanon west to the Laclede-Webster County line. In dry times it was a very dusty and dirty job. Dad chewed Pick tobacco. He said it helped him to eat the dust.
When Route 14 became Route 66 there were some changes made. It no longer went through the main part of Lebanon but skirted by to the south. It now cut straight across the Horseshoe Pond leaving it divided. It went ambling to the southwest instead of following section lines as it once did.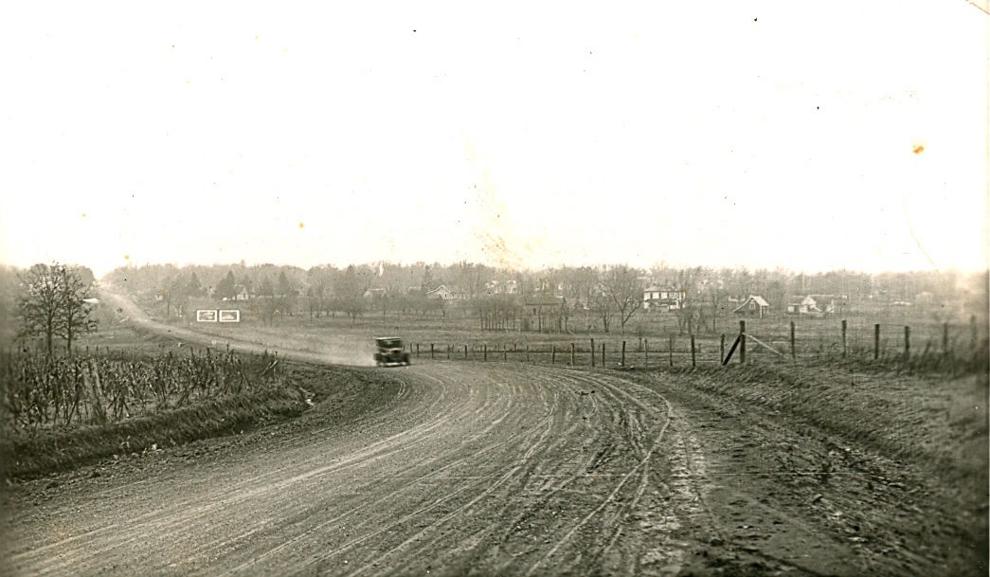 Near Phillipsburg the road went under the Frisco Railroad. It was called the Subway. It still stands today and the inscription, 1926, can be plainly seen on the west side. It is rather blurred on the west side. The highway circled around Phillipsburg as it did many other towns.
Loads and loads of gravel were hauled to improve the road. I can recall a certain place near Phillipsburg where they were hauling gravel for improvement. They were using World War I Liberty trucks They had solid rubber tires and were chain driven. I remember some of the men's names: Lee and Brownie Street, Frog Long, Roscoe Collier, and Dode Elder. Dad was spreading the gravel with the motor grader. His supervisor was Earl Simpson.
In 1927, the telephone line that nearly paralleled 66 was felled by an ice storm. Wherever the telephone line crossed from one side of the road to the other, the highway was obviously blocked. Dad took wire pliers and cut the wires to clear the road. I do not know how many miles of line were on the ground. Line gangs came from everywhere to help build the line back. Momma fed many of them dinner each day.
In 1928, we were excited to hear about the coming of the Foot Races. "Bunion Derby" it was called. I remember well seeing them go by our farm. The participants were very muscular and brown from the exposure to the sun and weather. Another exciting thing was when a man came by walking backwards. He had on glasses that had small side mirrors on each side to see where he was going. I don't have any idea where he started from or where he was heading.
In 1929, Route 66 was paved in Laclede County from Lebanon to the Laclede-Webster county line. I do not know when it was paved east of Lebanon. The contractor for this job was from Asheville, North Carolina. Many men from the south came along with the contractor and many men were hired locally. Men with horses and mules were used to move dirt to shape the road bed for paving. Sand, gravel, and cement were shipped in by railroad cars for this project. In our area it was unloaded at a railroad siding called Huben. From there the aggregate was hauled in measured amounts in trucks to the mixer on the road bed. Water for the mixing was piped from the Caffey pond near our farm. A big pump was located at the pond and a two-inch pipe line lay along the road to the mixer. Each morning the pump was started and ran till evening, Earl "Dutch" Caffey ran the pump.
Dad had quit working for the State and hired on with his team to the contractor. He and Harrison Holman hauled the forms that were set for the paver to run on. Each morning the forms used day before were pulled and Dad and his helper moved them on ahead for use again the next day.
Momma boarded some of the truck drivers. I think there were six and she got eight dollars per week per man. My sister Mayme and I sold candy bars and soda pop to the workmen. We were all working except Bob. He was only five, too small to do anything, and my youngest sister, Daphna, was not yet born.
Things I remember about places along Route 66:
—Munger Moss Motel.
—Lenz Tourist Home.
—Camp Joy.
—Street Car Grill.
—Nelson's Dream Village with the water fountain and changing colored lights set to music.
—Ice skating and fishing at Horseshoe Pond.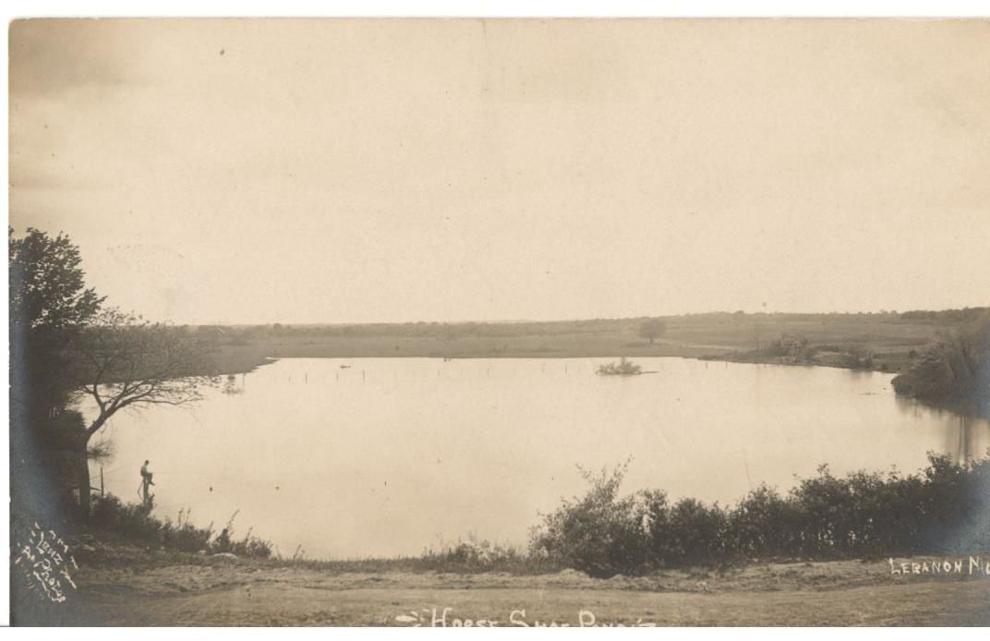 —Ball games and dances at Hill Top.
—Loafing at Caffeyville store.
—Dr. Herbert's Shell Station with about six tiny tourist cabins.
—Going to country school at "Dry and Dusty" District 61 (just a hop and a skip from Route 66).
—Liberty Church — a spiritual home for many people in the neighborhood.
—Sam Moore's Blacksmith Shop.
—Selling rabbits at Hi-Lite Store.
—Mayhan Hollow.
—The spring alongside the road near Lonesome Hill Cemetery and Spring Grove Church.
—The Bert Benton House formerly the Stagecoach Station for the Butterfield Stage (now restored and relocated between Lebanon and Bennett Spring on Route 64).
—The Subway under the Frisco Railroad near Phillipsburg.
—High School at Phillipsburg.
—Picnics at Twin Oaks organized by Sadie McMenus.
—The Bateman Gold Fish farm.
—The spring at Mrs. Warner's place between Phillipsburg and Conway.
—Pie at Harris Café in Conway.
My Dad often quoted a line from a poem by Sam Walter Foss: "Let me live in a house by the side of the road and be a friend to man." My parents, Wallace and Edith Moye, befriended many people that passed by on Route 66, as well as many who lived in our neighborhood. As pioneers in their own time, they would both be excited to know that Route 66 is still alive in an historical status. I am proud to have been a part of this bit of history.
And that's the way it was as I grew up along Route 66.