It was the Eden of Route 66. For more than 40 years, Eden Resort, on a hill just west of the Gasconade River on the south side of Route 66, was a self-proclaimed paradise for thousands of travelers, vacationers and fishermen. "It was a showplace,'' Hugh McClure Jr. of nearby Hazelgreen recalled.
"I think it would have been called the nicest and most beautiful place on 66," he said, adding that the resort "was booked up and sold out from year to year. They had a big pine dining lodge, and it sure was a treat to eat in that place."
Eden Resort was built in the 1920s by Stanley M. Riggs, a St. Louis businessman who is remembered by Betty Dewey as "an elegant gentleman, very English." Dewey's parents, Walter and Helen Dickinson, later would become the resort's second and last owners.
Riggs, according to an early brochure, was "a lover of the beautiful Ozark hill country, where he has spent every leisure moment away from business (winter and summer, hunting, fishing and just loafing)."
Riggs "decided to purchase the most beautiful and convenient spot he could find in this wonderful playground, and build thereon a resting place, or resort, such as he had dreamed of, but never found. However, he kept in mind that city dwellers are accustomed to comforts -- not usually found in the average resort -- and after a long search, a superbly beautiful tract of land was secured and on this has arisen 'Eden,' a paradise in the Ozarks."
According to the brochure, Eden consisted "of a large main building (one story), with a spacious outdoor, screened, dining room extending the full length of the house and overlooking, through the trees, the highway with its constant stream of autos -- a cool, delightful place to enjoy your meals.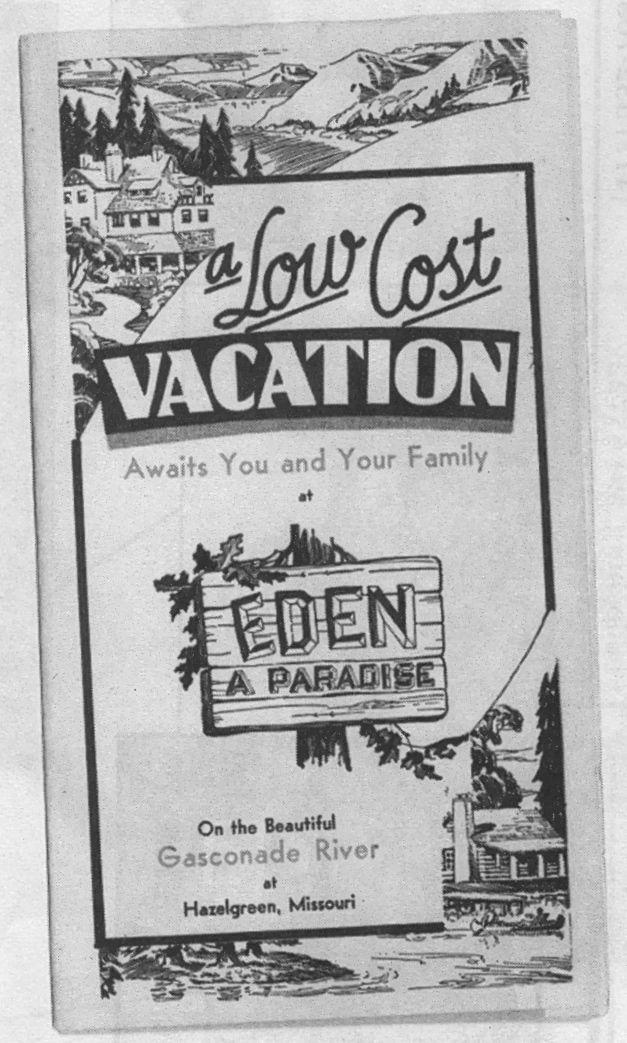 "One to five-room cottages are each furnished for extreme comfort with Simmons beds, lots of comfortable chairs, porch swings, etc. The large screened porch of every cottage is another source of comfort at 'Eden.' The entire place is in the shade of magnificent forest trees and has running water, toilets, shower baths, electric lights and no mosquitos."
Rates in the 1930s were $3 per day for adults or $18 a week.
"Why go to far away, expensive places when Eden is right at your door? Whether you come for a week-end, for two weeks or a complete summer you'll find it the ideal spot. Plenty of action and plenty of rest. No matter what your hobby may be you'll find it here. Why not plan to bring the whole family to Eden this year?"
Most of Riggs' guests came from the St. Louis area. But the first person to sign the guest register (after Riggs himself) in 1929, possibly the resort's first year, was from Cleveland. Another guest in May 1929 was from Anderson, Ind.The first guests of the 1932 season were a delegation of nine men that included Missouri Supreme Court justices W.T. Ragland and Bob Ellison; R.R. Nacy, a candidate for state treasurer; and Charlie M. Hay, a candidate for the U.S. Senate.
The register for August 1934 is filled with names from Lebanon, some still familiar today, including Joe Knight, I.T. Curry, Jean Paul Bradshaw and Paul Page.
Riggs hired managers to operate Eden Resort for him. Among them were the Dickinsons, who came to Eden from Monett. "We went to Eden in 1942," their son, Dan, recalls. "I'd say 1946 is when they actually bought the thing."
Dan, now of Overland Park, Kan., and sister Betty, now of Independence, have many memories of Eden. "When we first had the resort, there was no running water or pump of any kind (in the cottages)," Betty Dewey recalls. Each unit had a porcelain commode, a water pitcher and a wash basin, she remembers. "There was nothing modern about it," Dan Dickinson says.
But there was running water to two shower houses on opposite sides of the hill -- one for men, the other for women. Each had toilets and shower stalls, with water fed from a tank on each roof.
Dan says the tanks were painted black to absorb heat from the sun. At times, the sun-heated water became too hot to use.
Dan described how his mom and dad met. "There was an accident on the bridge that was really bad.  A large dump truck went thru the railing and punched into the river, the driver was killed.  The bridge was closed for a time and since my Mom lived east on 66 at Gascozark she and friends came down to the bridge to see all the commotion since people were coming back on 66 to the service station saying the road was closed.  That was the first time she saw my Dad - at the accident.
By 1949-50, work began on installing a central water system, including toilets, to each cottage.
Dan recalls Eden Resort having 20 units, not including two buildings over the hill that had five housekeeping units in each."Some would be two-unit structures. You could open the door and make it one unit if you had a group big enough to need both." One unit had four rooms.
Meals were eaten in the lodge building, which Betty remembers including an office with a fireplace, a large dining room with about 20 tables, a linen room and a kitchen.
"In the dining room, there also was an area where there were square dances and things," Betty says. "It was a large building." In 1946, Betty was married to Edward Dewey of Minneapolis in the lodge building at Eden Resort. "Dr. (J.D.) Prater was the minister who came out from Lebanon," she recalls. "We were married in front of the fireplace."
The customer base of Eden Resort evolved over its four decades. An early brochure describes it as "A Modern 'All-Cottage' Summer Resort Hotel." Men were encouraged to let "the wife and kiddies spend the summer in one of our cottages. It will do them all a world of good. You can spend the week-ends with them -- good for you, too." It wasn't uncommon for visitors to arrive by train and be picked up in Richland or Lebanon.
During World War II, Betty Dewey remembers, "a lot of people, families came to (Eden Resort) to meet their sons at Fort Leonard Wood before they shipped out." Dan Dickinson notes that after the war, people became more affluent, gasoline and tires were more plentiful, and the drive on Route 66 was faster, only three to four hours from St. Louis to Eden. "Consequently you saw that a lot of (Eden visitors) were fishing people just staying for a weekend," rather than for a week or longer.
In the late 1940s, at the encouragement of the Missouri Department of Natural Resources, Eden Resort was one of several area businesses to form the Central Ozarks Association. "Natural Resources was interested in encouraging the tourist industry, people coming into Missouri," Dan says.
He recalls, as part of those efforts, personally taking Jim Mitchell, editor of Field & Stream magazine, and Nick Kohler, a pioneer promoter of boat shows, bird hunting to show off the area. He also remembers manning a booth for the Central Ozarks Association at the 1946 St. Louis boat and outdoors show. "We took one of our jon boats in and a guide."
A 16-page promotional magazine produced by the Central Ozarks Association includes a full-page ad for Lebanon ("Gateway to Ozark Fishing Streams-Vacation Resorts"), including an invitation to the Laclede County Centennial Celebration on Aug. 17-13, 1949. Another page is filled with ads for Lebanon-area businesses, including, on Route 66, Eden Resort, the Nelson Hotel, Vesta Court and 4 Acre Court.
The most-prestigious event ever held at Eden Resort may have been in September 1952, when it was host to the Missouri Outdoor Writers' Association three-day meeting. The keynote speaker was Nash Buckingham, a sportsman, writer, conservationist and waterfowl expert from Nashville, Tenn. Toastmaster for the banquet was Charles E. Gillham, director of public relations for Olin Industries, an explorer, big-game hunter, biologist and author of "The Raw North." L. Winton Lemen of the Eastman Kodak Co., Rochester, N.Y., presented a two-day forum and workshop on photojournalism in the Ozarks.
A group from Lebanon, headed by Chamber of Commerce President R.J. Weidemier, treated the outdoor writers to a barbecue and square dance at the Lebanon Country Club. Civic leaders from Richland organized an Ozarks-style fox hunt for the writers.
A colorful Eden brochure from this era notes that the resort "is located one mile west of Hazelgreen, Mo., 152 miles west of St. Louis, Mo., on Scenic Highway U.S. #66. Mountain Scenery and paved highway all the way, and on the western banks of the beautiful Gasconade River."
The brochure stresses that Eden is an "All Cottage Resort (not cabins)" with private baths and "all the comforts of a city apartment deep in the Central Ozark Mountains." The food is "home cooking at its very best." With construction of Interstate 44 starting in early 1956, Eden Resort soon "got cut off the main road completely. You went to a service road," Dan recalls.
"Access to the main highway is quite vital to that type of business." With access to I-44 three miles away in both directions, no longer did Eden Resort get "drop-in business" off Route 66. The remaining business was from people who already knew their destination.
"Most of it was old-timers who knew you. You had your old guys who came back. It wound up being a fishing camp." The coming of I-44 did more than cut off Eden Resort from traffic.
To make room for the new traffic lanes, bulldozers demolished the resort's picturesque bricked entrance, including the covered bus stop, where Greyhound dropped off and picked up visitors to the resort. Two other landmarks also fell victim to the bulldozers.
One was a rock monument on Eden property along Route 66 with a bronze plaque that read: "To commemorate the March of Union Soldiers -- St. Louis to Springfield overland via Wire Road 1861-1865 Civil War. Erected 1931 by American Circle #62, Ladies of the G.A.R., St. Louis, Mo." The plaque disappeared on March 23, 1956.
The other landmark was a roadside park located across Route 66 from Eden Resort.
Dan Dickinson explains that 1.6 acres of the original 37.7-acre tract were cut off by the Wire Road. After Route 66 was built on the Wire Road, Riggs donated the 1.6 acres for a park, with a stipulation that the land would be deeded back if it ever ceased to be used as a park.
The park was situated in a ravine, and steps were built down to it from the road. Besides a rock grill for cooking and a table, the park included an obelisk marker with a plaque reading that the land for the park had been given "by these public spirited citizens." Nine names were listed, including four couples. One couple was S.M. Riggs and Marguerite Riggs.
A photograph in Betty Dewey's collection shows construction equipment filling in the roadside park's ravine for the lanes of Interstate 44. The obelisk marker was knocked down, the plaque's fate unknown.
Walter and Helen Dickinson continued to operate Eden Resort, even with the loss of highway traffic. When Walter Dickinson died in March 1971 at age 70, his obituary in The Lebanon Daily Record included that "Gasconade River float trips were featured at the resort and Mr. Dickinson had arranged floats for an untold number of Missouri sportsmen and others from out of state."
Helen Dickinson ran the resort by herself for another year or two. "Then we sold it to a Christian organization that had visions of developing a youth camp," Dan recalls. "That fell through. It didn't develop properly." The church group stopped making payments on the property, and Helen Dickinson got it back.
"In the process of them trying to operate the thing, and then getting ready to vacate the thing, it was pretty well stripped. There wasn't much left," Dan recalls with sadness. "There was no way you could have operated the thing the way it had been in the condition it was."
The property deteriorated even more rapidly as it sat vacant. Dan says windows, doors, even copper wiring were stolen before the land was sold to somebody for private use. Most of Eden Resort's remaining buildings were bulldozed. Helen Dickinson died in September 1975. Betty Dewey says the cross atop the Hazelgreen Methodist Church is in memory of her parents.
Today, the buildings and monuments gone, nothing remains to identify the location of Eden Resort. Nature has reclaimed the land that Stanley Riggs found for his "Paradise in the Ozark Hills." But it's still a place "where high hills reach toward the blue of the sky, where a crystal clear stream flows silently through cool green valleys."