Sixty years ago next week – Thursday, Aug. 8, 1957 – was the end of the road for the Route 66 we know and love in Lebanon today.
That's the day the famed U.S. highway was relocated from Elm Street to farmland then south of town, where a new, four-lane, controlled-access "Interstate" highway had been built.
Variously called New U.S. Highway 66, Bypass 66, Interstate 2 and the name that stuck, Interstate 44, the "Lebanon relocation project," as The Lebanon Daily Record called it, would move traffic farther from downtown, just as Route 14, later renamed Route 66, had done in 1926.
The new interstate highway eventually would mean more economic growth for Lebanon, but business owners who had benefited from fronting Route 66 for up to 31 years  faced uncertainty as the ribbons of concrete were poured to their south.
But Lebanon had plenty of time to prepare.
Lebanon relocation project
The "Lebanon relocation project" was contracted on Nov. 7, 1955, nearly eight months before Congress passed the Federal Aid Highway Act, creating today's interstate system. Though it originally was to be a four-lane version of Route 66, bypassing congested Elm Street, the 4.6-mile Lebanon relocation actually became part of the new interstate system. In fact, the news release from the State Highway Commission announcing its completion said three miles of new highway that opened on the same day directly east of the Lebanon relocation were "part of a 13.3 miles long project which was the first Interstate System project to be contracted in the nation…" The date the historic contract was let was Aug. 2, 1956.
On Aug. 1, 1956, the Chamber of Commerce appointed a highway-promotion committee with Pete Hudson, co-owner of the Munger Moss Motel, as chairman. Later named to an executive committee were Mayor J.C. Benage, Elbert Montgomery, Joe Knight and E.G. Spears.
On Oct. 16, at a joint meeting of the chamber, Lions and Kiwanis, Benage announced tentative plans to erect four 14-by-40 signs and six 12-by-24 signs to promote Lebanon along what would become the new Interstate 44. In February 1957, the chamber announced a five-year contract with Lebanon Neon Sign Co. for the 10 signs.
"To Open 66 Bypass Thursday" headlined a Page 1 story in The Daily Record on Aug. 7, 1957:
"The new highway to be opened to traffic begins about 2.6 miles southwest of Lebanon, near the west interchange into Lebanon. It extends northeasterly about 8.2 miles. The west 4.6 miles represents the Lebanon relocation project. The remainder is part of another 13.3 miles long project on which Koss Construction Company now is paving.
"Opening of the by-pass route will provide a modern divided, controlled access traffic facility through this area. These two features, dividing of traffic and control of access, today are considered the outstanding engineering features contributing to highway safety."
Bushman Construction Co. of Kansas City built the Lebanon bypass for about $2,199,000. "The project included grading, bridging and the laying of two 24-foot wide divided portland cement concrete pavements with controlled access. The project also includes three interchanges, one each at U.S. Route 66 both east and west of Lebanon and one at Routes 5-32 at the south edge of Lebanon."
A photograph of  "Traffic on Lebanon Bypass" was at the top of Page 1 the next day, but it showed only one lonely car – described as "the first east-bound automobile" – emerging from beneath the Highway 5-32 bridge.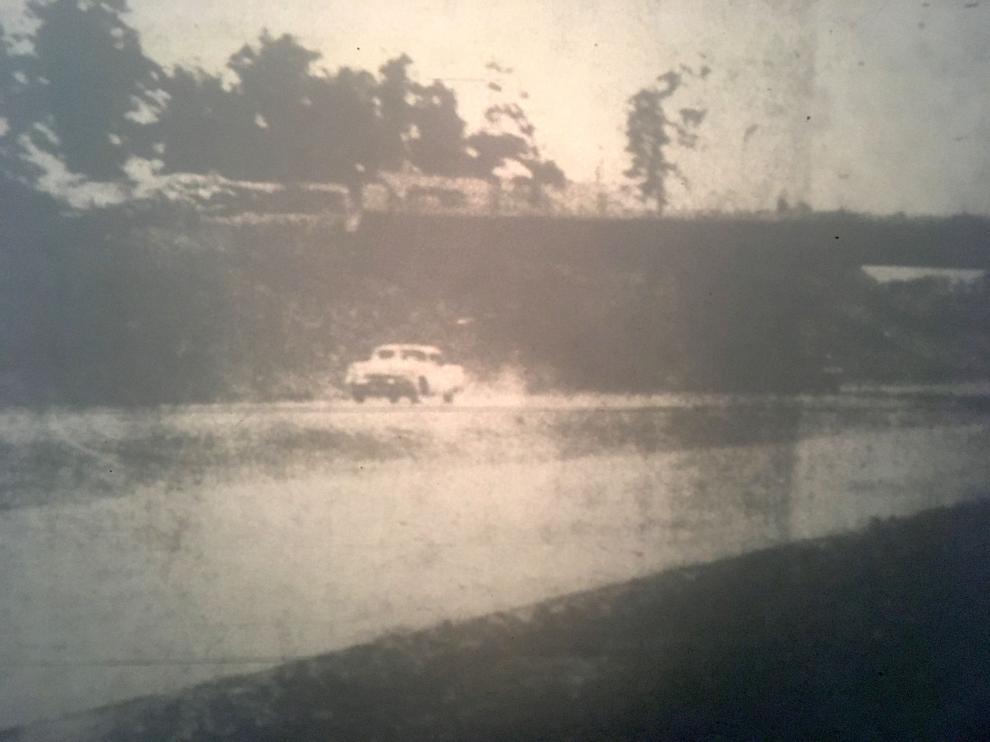 "That day got my husband so bad he just wanted to get out of town and go to Joplin," Jessie Hudson, then-co-owner of the bypassed Munger Moss Motel, told Susan Croce Kelly in the 1988 book, "Route 66."
"We didn't know if we would go out of business or what. Thank God, they opened up the road, and we were rented out by nine that night."
Sixty years later, the Munger Moss is an internationally known Route 66 landmark, its billboards directing traffic to turn off I-44 at Exit 130 to its location on The Mother Road.
The immediate impact on Lebanon's traffic flow was reported in the Aug. 14 Daily Record below a photo of one of the new billboards promoting Lebanon. The billboard, targeting westbound traffic, had a dark arrow at the top, pointing right, with reverse type reading "15,000 FRIENDLY FOLKS."
"LEBANON" was in dominant letters in the middle of the sign. Below, the sign read: "MOTELS • RESTAURANTS • HOTELS."
The article read:
"While it is too early as yet to get a good idea as to full business effects from the routing of traffic over new U.S. Highway 66 in Lebanon and the area, it is already obvious to a number of observers that the Lebanon signs along new 66 such as this one, are paying off handsomely.
"The Lebanon signs are being put up by the local Chamber of Commerce, under supervision of the highway committee headed by Carl (Pete) Hudson. When the project is finished, there will be 10 signs in all with four of these electrically lighted for night use.
"'First results from the signs already in place are very good,' said Lebanon mayor Jewel C. Benage, who is a member of the Chamber of Commerce highway committee. Mayor Benage this morning agreed that it is too early as yet to get a good idea as to the effect of the new highway setup, but he noted the increase in traffic on Jefferson ave. due to tourists turning off the new super highway and driving into Lebanon's business district. Gene Clay of the KLWT staff also has observed the marked increase in traffic on Jefferson ave. (Highway 5)."
Today, about a dozen restaurants line Jefferson between I-44 and Elm Street, old Route 66. Sixty years ago, I-44 traffic had to drive farther into town to find Lebanon eateries.
"Seven carloads of tourists (by actual count traveling on new 66) ate their noon meal at a Commercial street restaurant yesterday. When asked by a reporter how they happened to stop in Lebanon, three of the tourists said they saw a Lebanon sign several miles east of the city, decided to stop and have their automobiles serviced. One tourist told the Daily Record reporter that he drove two or three miles past Lebanon and then decided to come back for fear he would not reach another city in a short time.
"Max Turk, executive secretary of the Chamber of  Commerce, said he has already talked with tourist(s) in Lebanon who said they chose the stop because of the Chamber of Commerce signs. Mayor Benage pointed out that the sites for the signs extend from a point east of Springfield to one east of Rolla.
"R.E. Thomas, veteran local highway department employee, points out that Lebanon will get the benefit of additional state-erected signs as the highway project progresses. Frank Lyons, highway department engineer, noted in a speech before Kiwanis Club members Tuesday noon that Lebanon fortunately has three turnoffs.
"As expected, the reduction in traffic on old 66 to a comparative trickle has resulted in lost business to some firms along this route. This, it seems, is especially true in the case of some service stations where a reduction of sales is reported, and at some eating establishments. The motel business, in most cases, is holding. . . . and they still need the no vacancy sign.
"The owner of a garage on old 66 told the Daily Record this morning that his service department has been literally flooded, that he is enjoying a regular increase in this type of business. He said the increase in the service department business started on the day traffic was first routed over new 66, at the time when some members of the staff figured that (they would be) having something like an 'on-the-job vacation.'
"It could be that Lebanon will write its own ticket on the overall effect of the (good or bad) of new 66. And, in at least one case, we're off on the right foot with the highway signs and the Chamber of Commerce is to be congratulated for this program. We hope the Chamber of Commerce receives cooperation in future programs designed to get tourists to turn off Interstate No. 2 in Lebanon."
More segments opened quickly
The next section of New Route 66 opened just days later, August 13, at 2 p.m. "The section to be opened extends from the Gasconade River bridge, west of Hazelgreen, west 8.1 miles to the east end of a new pavement opened to traffic only last Thursday," The Daily Record reported. "It is part of the 13.3 miles' long project which was contracted in August of last year to Koss Construction Company, Des Moines, Ia., in the first contract to be made in the nation on an Interstate Route under the expanded federal aid program.
"This 13.3 miles long improvement extends from the east end of the Lebanon by-pass easterly to Hazelgreen. . . . About 2.3 miles of the paving remains to be completed."
Four-lane highways were so rare in rural Missouri 60 years ago that in the same edition The Daily Record introduced a series of articles from the Missouri State Highway Patrol "in an effort to educate the driving public of Laclede and adjoining counties regarding travel and driving on a 4-lane highway."
Two more segments of I-44 remained to be opened in Laclede County, on opposite ends of the county, meaning that two more segments of Route 66 remained to be replaced.
On Nov. 4, the remaining 1.7 miles of new pavement between Lebanon and Hazelgreen, including a 665-foot-long bridge over the Gasconade River, saw its first traffic. This was the last section of the 13.3-mile project that was the first contract awarded under the Federal Aid Highway Act. Total cost of all 13.3 miles was $3,288,000.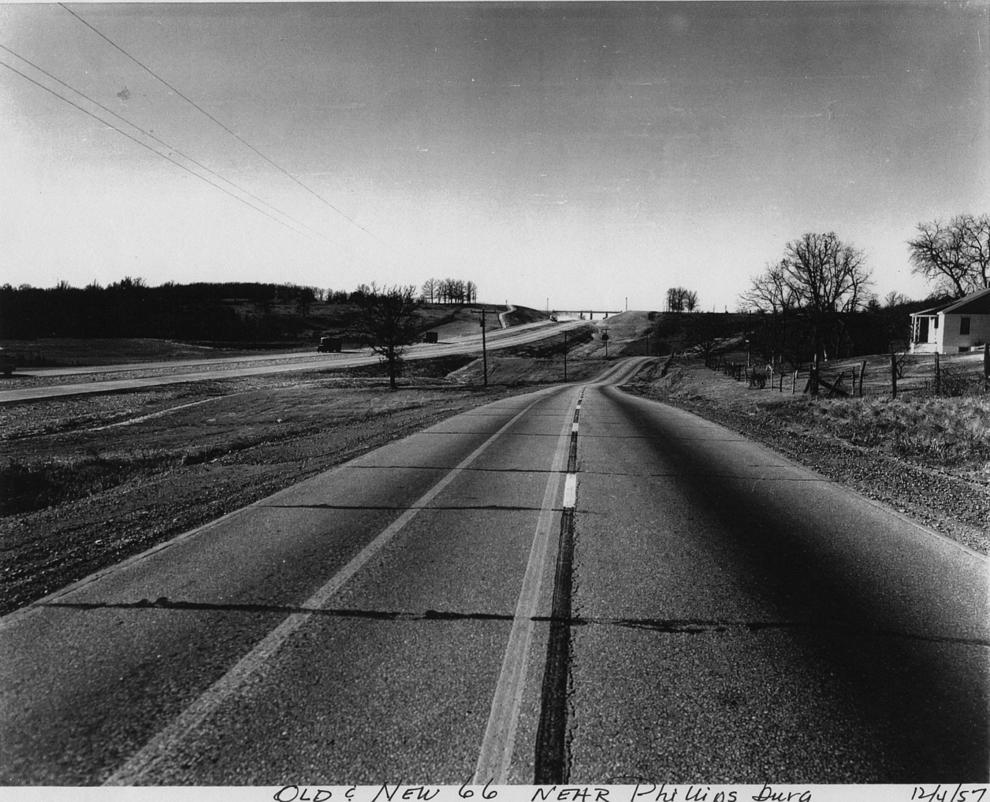 The end to the original two-lane Route 66 in Laclede County came on Dec. 4, 1957. Here's how it was announced the day before in The Daily Record:
"The remaining 7.2 miles of new pavement on Interstate Route 44 (now marked as U.S. Route 66) between Lebanon and Conway, in Laclede county, will be opened to traffic at 10 a.m. Wednesday of this week. Completion and opening of this section will complete dual pavement on Interstate Route 44 across Laclede county.
"The 6.2 miles long section to be opened Wednesday morning extends from a point about 7.2 miles west of Lebanon west to connect with the existing dual pavement east of Conway. It is part of a 11 ½ miles long section contracted in October, 1956, to extend from the west end of the Lebanon bypass west toward Conway. The remaining portion was opened earlier, the section now to be opened having been delayed awaiting completion of the bridge under the St. Louis and San Francisco Railroad at Phillipsburg."
Koss Construction Co. of Des Moines, Iowa, was paid $3,004,808 for the 11.5-mile project. F.D. Lyons of Lebanon was resident engineer.
The same Dec. 3 issue of The Daily Record announced that the Lebanon Chamber of Commerce planned to erect three Scotch-lite (reflective) signs on the new highway west of the city to advertise Lebanon's shopping center, Bennett Spring State Park and the Lake of the Ozarks.
Thirty-one years earlier, Col. A.T. Nelson had erected a sign announcing to passing tourists that they were in Lebanon, not in Barnsdall, the name of the gasoline he sold.
Perhaps nothing signaled the end of an era more than this sentence from that 1957 Chamber of Commerce story:
"President Ward Krudwig reported that he contacted the Lebanon Neon Company and they have agreed to dismantle and temporarily store the neon arrow sign, located at the Nelson hotel."
Less than eight months later, according to Route 66 historian Joe Sonderman, on July 29, 1958, with Elm Street no longer carrying Route 66 traffic, the iconic Nelson Hotel itself was sold to Consumers Markets. The hotel was torn down, and a supermarket, now called King Cash Saver, was built on the site.
A subsequent economic-impact study by the Missouri State Highway Department showed only a one-year dip in Lebanon's economy and that the bypass "seems to have had no permanent ill effect on the economy of the city. The growth trend existing prior to the opening was continued in 1959 at an increased rate, indicating an expanding economy."
And today, 60 years later, Route 66 is more popular than it ever was when it was a designated federal highway through Lebanon.