The late Glenn Wrinkle Sr., a Route 66 icon in Lebanon as well as throughout the nation, was honored by his hometown Thursday night with a Lebanon Community Achievement Award.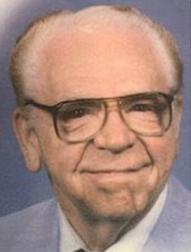 Wrinkle was one of five new honorees "whose lives and careers have had a major beneficial impact on the Laclede County Area," according to the printed program. All will be recognized on the Wall of Honor at the Cowan Civic Center.
Wrinkle operated Wrink's Food Market on Route 66 at the east edge of Lebanon from 1950 until a month before his death in 2005. His gregarious personality made the market a popular stop for Route 66 travelers.
The Wall of Honor Banquet, held in the foyer of the civic center, included videos of each honoree. The music accompanying Wrinkle's video was the 1933 song, "Shuffle Off to Buffalo." The Rev. Eddie Wrinkle explained that the song was – unintentionally -- his father's first solo in church at age 6.
Eddie Wrinkle told the crowd about the history of Wrink's Market and described his dad's character by using the letters of his name. "G," he said, stood for Godly and generous, "L" for loving, "E" for energetic,"N" for never met a stranger, and the second "N" for nice.
"Dad was just a nice guy," he said.
Eddie said the "W" in Wrinkle stood for workaholic. He quoted his father in later years as saying, "If they have to carry me up to the store, I'm going to be there."
He talked about how Glenn enjoyed representing Lebanon on Route 66 and would climb aboard tour buses to talk about it.
The printed program included this profile of Glenn Wrinkle:
"Glenn graduated from Lebanon High School in 1941. He served as Staff Sergeant in the US Army during WWII from 1943-46 in Okinawa, Philippines and Korea. Glenn and Kathryn "Katie" married in 1946 and became parents of six children. In 1950, Glenn opened Wrink's Food Market on City Route 66 with $150 worth of groceries, a little hope, and a lot of hard work. Wrink's Market was open for almost 55 years and became a national icon on Historic Route 66. During that time, Glenn greeted local customers and travelers from around the world with a genuine smile and a story . . . or two. Glenn was very active in the community where he was a member of the American Legion Post #43, First United Methodist Church where he taught Sunday School, served on the Board of Trustees and Missionary Board, and was a lay minister for 40 years. Glenn was also the 2003 Lebanon Christmas Parade Grand Marshal."
Two tables of Wrinkle family members attended the banquet.
Six members of the Lebanon-Laclede County Route 66 Society sat together in support of Glenn Wrinkle receiving the award: Chuck and Ellen Jordan, Howard Fuller, Cliff Claxton, John Stowe and Gary Sosniecki.
Other recipients of the Community Achievement Award were retired teacher and Red Cross volunteer Beverly Miller Keltner, seven-term County Clerk Glenda Mott, 1800s businessman John Lingsweiler and lawyer Tom O'Neil.
After several years of being closed, Wrink's Market reopened in 2017 under the management of Glenn Wrinkle's granddaughter, Katie Wrinkle Hapner. It continues to serve travelers on Route 66 in the style of its founder.