A record 75 yard sales, many with multiple sellers, are set for the third annual 100-mile Route 66 Yard Sale this Friday and Saturday in Pulaski, Laclede and Webster counties.
Based on those who listed sales on the "Route 66 Yardsale" Facebook page and in the Laclede County Record, Laclede County leads the way with 38 sales. Pulaski County has 20, and Webster County has 17. Sales will be found from Devils Elbow in Pulaski County on the east to Northview in Webster County on the west. Many will be held regardless of the weather. Those unfamiliar with Route 66 should look for the blue-and-white "Historic Byway" signs along the road.
Last year, 52 sales were advertised. Thirty-seven sales participated in 2019, the first year for the three-county activity.
If you're traveling to the event from the west, exit Interstate 44 at Northview (Exit 96) and go south on Highway B a short distance to Highway OO, which is Historic Route 66. Go east on Route 66 and start looking for signs and sales as you approach Marshfield.
If you're traveling to the event from the east, exit I-44 at Highway J (Exit 169). Go south a short distance to Highway Z, which is Historic Route 66. Go west on Route 66 and start looking for signs and sales as you approach Devils Elbow.
In some areas of the three counties, Route 66 runs south of I-44. In some areas, it runs north. Signs will keep you heading in the right direction.
Most sales are on or close enough to Route 66 that you'll see directional signs, but a few are off the highway. Use your phone's map app to find sales that are not on the highway.
Sellers are reminded to post signs directing buyers to your sale, especially if you're not on Route 66 itself.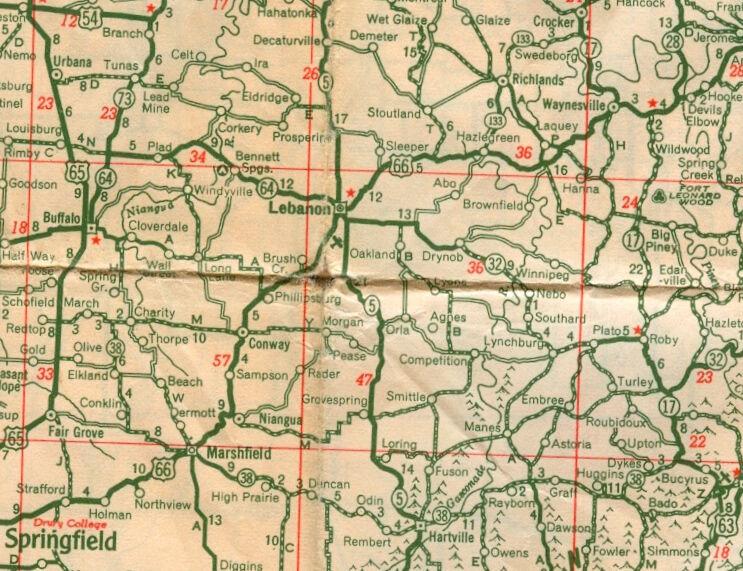 The purpose of the event is to introduce more people to Historic Route 66, which attracts thousands of tourists from all over the world to Webster, Laclede and Pulaski counties each year. As you drive along The Mother Road, imagine that you're traveling it with your grandparents in the late 1920s to the late 1950s, before I-44 and other interstate highways were built, when two-lane Route 66 was the main road from Chicago to Los Angeles. Look along the road at the remaining motels, restaurants and gas stations from that era, some restored, some abandoned and crumbling. Take photographs at some of the famous Route 66 attractions in each community.
The "Route 66 Yard Sale: 100 Miles of Treasures on The Mother Road" is sponsored by the Lebanon-Laclede County Route 66 Society, the Webster County Route 66 Initiative and the Waynesville-St. Robert Chamber of Commerce. The sponsors thank the sellers and buyers for participating in this year's event.
Here's the final, updated list of sales for 2021:
Pulaski County
PULASKI — 28300 Southbend Rd. Richland, MO. On the mother road. Stop by, it's gonna be huge, all kind of stuff. (James Bigley)
PULASKI — Long Drive, Waynesville, Aug. 7 only. (Joe Krill)
PULASKI — Buckhorn exit over pass. Flea market. (Lisa Lewis Green)
PULASKI — Timbers Subdivision, 2 miles past Road Ranger. Many families having yard sales. (Bridget Ruddy Bryson)
PULASKI — Friday, Saturday and Sunday...19620-Salem Rd. Waynesville, MO 65583. Hunters Point. (Heather Hoke)
PULASKI —Custom T-shirts and vinyl decals. I will be set up at the pavilion where I usually am set up for the farmers market in Waynesville, Mo.! (Britney Frick)
PULASKI — 14480 Hilltop Road, St Robert. Westwood Estates. (Caryn Ploss)
PULASKI — Saturday only. Faulkner apartments #93 off of Zeigenbein Road.
A little of everything. (Anja Myers Niccum)
PULASKI — I'm setting up east of Hooker Cut & I've got a ton of stuff! When you see the canoe rental sign across from what used to be The Old Hillbilly Store you're there! (Karen Crismon Stark)
PULASKI — Saturday ONLY- Timbers Subdivision 20265 Henry Lane. Household items, some furniture, clothes, shoes, DVD's, hair clippers, dog clippers, tools .. just stuff. Thank you. (Tamara-Reid Coggins)
PULASKI —Buckhorn Baptist Church on Hwy.17 will have several people with tables in parking lot. Lots of Variety. Saturday only. (Kristi Atkins)
PULASKI —The Pulaski County Farmers' Market will have a multi-space yard sale area again this year. Don't have a spot to sell on Route 66 and are a Waynesville resident? Come on down and join the fun. The regular market vendors join the yard sellers on Saturday for the biggest day of the year at the market. (Bruce Main)
PULASKI — Multi-family sale. 24250 Thames in St. Robert. Men, women, children items. Several baby items for boys and girls. Tons of household items. A few furniture items as well. Something for everyone. (Danina Young)
PULASKI — 20767 Trophy Lane, Newburg. THIS IS ON Z HWY IN DEVILS ELBOW AREA EAST OF HOOKER CUT. Antiques & vintage, rusty stuff, Route 66 items & lots of misc. When you see the canoe rental sign you're there! (Debbie Becht)
PULASKI — Eclectic Originals. 225 Historic Route 66 E, Waynesville. (Cheryl Keeton)
PULASKI —Wwe have a space at Waynesville Farmer's Market. Vintage glassware, teapots, some crafts, photography. (Judy Hankel)
PULASKI — Faith Baptist Church in Waynesville will be participating again this year. 25475 Highway 17, Waynesville, MO. There will be household items, furniture, clothes, shoes, glassware, kids toys and baked goods as well as drinks available for purchase and much much more! Everything is donation only to benefit our Elevate Youth Group at Faith Baptist Church! (Alicia Barlor)
PULASKI — 30197 Hwy. AB, Richland. Some furniture, tools, kitchen stuff, toys, clothes, men stuff, farm supplies and more. (Sheri Wright)
PULASKI — Route 66 Community Art Gallery at 107 Historic 66 East in Waynesville, MO will be participating with multiple tables in our large parking lot! A 40-ft. trailer full of vintage items is traveling from St. Louis to sell in our lot on Saturday. (Jax Welborn)
PULASKI — Lyle Curtis Circle & Hwy 17, West Waynesville - across from Splash Designs - Rock House on the hill. 2 garages: Garage Sale garage & Antique / DIY garage. 5 Families.
Don't Miss Out on the Treasures. Sooooo much fun the last 2 years participating in this sale. Looking forward to seeing you all again. (Neda Walters)
Laclede County
LACLEDE — Aug. 6-7, 7 a.m. – 2 p.m., 19245 Old Rt. 66 (@Dover Rd.) 2.6 miles past B&D Truckstop. Multi-Family Indoor Sale. Tools, Toys, Furniture, Household, Clothes organized by size and type.
LACLEDE — Highway JJ-Sleeper to Stoutland, 7 miles, Aug. 6 & 7, 8 a.m. – 5 p.m. Clover Honey, cook books, canning jars, kitchen ware A to Z, baby-men-women's clothes, household goods, furniture, tools, fishing, durable medical equipment, too much to list.
LACLEDE — Aug. 6 & 7, 8 a.m. -?. 1516 Prosser Drive. Furniture, tools, household, crafts, mower, cast iron kitchen sink, adult clothes, Christmas décor & lots more.
LACLEDE — Picker's Sale: Friday & Saturday, August 6-7. Collectibles, household items, antiques including blue Mason jars, knickknacks and misc. 22480 Hwy. MM, Lebanon (in front of Buckles Bobbins and Bolts).
LACLEDE — Block Sale! Multiple sales, lots of everything. Holly Street, Lebanon, near the pool.
LACLEDE — Large Estate Sale, 2220 South Jefferson (Hwy. 5), Aug. 4-8, 8 a.m.-4 p.m. Vintage collectibles, glassware, toys, tools, kitchen ware, small appliances, crafts, holiday décor, furniture, home décor, office supplies and hidden treasures.
LACLEDE — Saturday, August 7. Huge Sale. 21762, Pine Tree Dr. (Laura Armstrong)
LACLEDE County on Fremont Street. Lots of everything! Machinery and equipment, farm, tools, to vehicles to clothing and toys… electronics and so on. Friday AND Saturday! Ty (Stephanie Gromowski)
LACLEDE — 1418 Deadra Drive. Same road as The Gym! (Jackie Marie Bagley)
LACLEDE — 191 North Pinecrest, Conway (3-family sale) (Barbara Hall)
LACLEDE— Linda Belt will be set up at Wrinks in Lebanon.
LACLEDE — 322238 Rt. 66, Richland. Household items, glassware, cd's, old luggage, old sewing machine, Tupperware, books, precious moments, clothes. Lots of variety. (Denise Woody)
LACLEDE — RescueMeMo animal sanctuary will be joining the 14036 Rt 66, Conway, sale….look for the little red building. (Laura Smith)
LACLEDE — Stoutland exit... Little bit of everything. Old barn full shop full miscellaneous household... 2nd east of storage units on hill Saturday only. (Lonnie Corn)
LACLEDE — 529 South Monroe St., Lebanon. Little bit of everything. (Tisha Smith Orcutt)
LACLEDE — GARAGE SALE FOR NEW LIFE HOUSE, Friday, August 6, 7a.m.-5 p.m.; Saturday, August 7, 7 a.m.-noon UNITED METHODIST CHURCH GYM. Please use West Entrance. 3' Social Distancing Requested. Donations Accepted at the Gym Wed 8/4 9 a.m.-5 p.m. and 8/5 9 a.m. -3 p.m. Call 417-718-1060 for more info or to drop off. newlifehouse1@gmail.com. Thank You in advance for Supporting New Life House. A Christian Transitional House for Women coming out of jail or prison (Brenda Purcell Nutter)
LACLEDE — 101 Jackson Rd. Phillipsburg ,Mo. 65722, Multi-family yard sale, just off of Rt. 66. (Mariah Nicole Beitler)
LACLEDE — 2nd Year! Saturday Only! 538 S Washington Ave Lebanon (across from Civic Center) Multi-family yard sale. Furniture, home decor, craft supplies, Duck Decoys, (and other duck hunting stuff), Happy Planners and stickers, Household items, Lots and lots of awesome stuff!! (Barbie Redburn)
LACLEDE — 14036 Rt. 66, Conway. Red cabin by the road. Yard & garden & farm, misc horse tack, cast iron ware - lots of it! misc computer and networking items, lots of other stuff. No clothes. (Louise Hansen)
LACLEDE — Conway Community Wide Garage Sale, 14 total sales along route 66 in Conway MO as well as surrounding area. August 5, 6, and 7th. (Ruthie Davis Letterman)
LACLEDE — 202 N. 4th St. Conway, 2 blocks off of Hwy. 66. (Pamela Denney)
LACLEDE — Lots of antiques, tools, fishing, glassware, games, and just about everything you can think of. 17232 Route 66 Phillipsburg. Kevin Eastburn's house (Rick Langdon)
LACLEDE — 17232 Rt. 66, Phillipsburg. Monster Sale. 10 families, lots of old stuff, tools, produce. (Kevin Eastburn)
LACLEDE —14006 Route 66. Between Phillipsburg and Conway. At least 2 family (Gloria Winfrey Denney)
LACLEDE — 214 West Pine in Phillipsburg (back on the metal building). Aug. 6th & 7th.
Multi-family moving sale (Halie Goemaat)
LACLEDE — 541 S. Adams, Lebanon, Mo. Just of Rt 66/Elm St. right next to Walgreens. (Nancy Ellingboe)
LACLEDE — 507 Nelson, Conway, Mo. (right off Rt. 66) 2 -amily garage sale. (Heather Van Winkle)
LACLEDE — 3-Family Moving Sale just off of old 66 at exit 123. 18110 Coolidge Road. follow signs. Be Sure To Mark Your Calendars As This Sale Is Thursday & Friday Only 7 a.m.- 4 p.m. (Jayme Moore)
LACLEDE — 16905 Cedar Ridge Rd., Phillipsburg ,1 mile off of exit 123. Watch for signs. Cleaning out household and handyman items. Boxes of nails, some tools, 12 x 24 carpet, 6 x 8 area rug, free items. (Tim Steinbach)
LACLEDE — Still Waters Farm (at our house behind the pumpkin patch). Friday and Saturday 8-3. We will have Thirty-One Gifts, Pampered Chef, household items, clothing, toys, tools and more! 28891 Treeline Lane, Richland. On Route 66 just West of the Gasconade River. Take either exit 145 or 140 to get to us. See you then! (Monica Rae Broner)
LACLEDE — Friday, Aug. 6, 8 a.m.-2 p.m. We are not exactly on Rt. 66 but we are not far off the beaten path. Hughes Senior Center, 460 W. Fifth St., Lebanon. We will have multiple spaces set up!! (Leza Rector)
LACLEDE — Multiple locations having a block sale, Holly Street in Lebanon, behind Boswell Park near the pool. (Mike Boggs)
LACLEDE — An additional 3 family yard sale at 12224 Route 66, Conway. (Tina Hyde)
LACLEDE — Hazelgreen Fire Protection District will be participating again this year. Located at 33991 Rt. 66 Richland (Cassandra Bean Rowland)
LACLEDE — Young Signs, 22095 East Rt. 66, Lebanon, MO. FRI-SAT. 7-family inside- Rain or shine. Antiques. Furniture. Children's clothes. Knicknacks. Large Event & Wedding Decor. Lots lots more. (Loretta Russell Young)
LACLEDE — We will be having our 10-family sale in the old Route 66 putt putt and driving range building again this year. 19245 Rt. 66 in Lebanon, Just past B&D. Be sure to mark your calendars and come and see us! (Pam Dawson)
LACLEDE — 3-family yard sale at 12224 Route 66, Conway. (Kathi Atkinson-Williams)
LACLEDE — 724 Fowler Drive, Lebanon. Gamma Xi Chapter of Delta Kappa Gamma (Professional Educator Organization) hosting sale. Lots of household items, books, miscellaneous. (Sue Bolander)
Webster County
WEBSTER — 431 W. Bedford, Marshfield, Friday & Saturday, 4-family yard sale. Lots of Nail tech stuff, nail lamps, polish acrylic, poly gel . . . way too much to list. Plus size clothing lots of small women's clothes Knick knacks. Baby things, kids stuff. Lots, lots more.... (kids selling cold homemade lemonade)  (Tina Marie Scott)
WEBSTER — 831 E Burford St, Marshfield Over 100 Purses! (Lori Hutton)
WEBSTER — HUGE YARD SALE 114 E. HUBBLE DR. MARSHFIELD. THURSDAY, FRIDAY AND SATURDAY. 8 AM Something for everyone. We will have kitchen items, small appliances, mens and women's jeans, health and beauty items, lots of baby items, baby clothes, hunting and fishing gear, fishing poles, several different calibers of ammo, knives, tackle boxes, bayonet with cover , DVDs and VHS, bedding, stuffed animals, kids toys, dish sets, large selection of womens shoes, rubber boots, Tupperware, knick knacks, Christmas items, tools, hunting bow, snap on clock, clothing of all sizes, blankets, books, new and used purses, coolers, oil lamps, and a few antiques. Lots of miscellaneous items not listed. (Lindsay Scott)
WEBSTER — 1210 Richwater Dr, Marshfield. Saturday only! (Mandi Laudig)
WEBSTER — 3-family yard sale, August 5-7 from 8 a.m. to 1:30/2. Out A Hwy. on Maple Tree Drive in Marshfield, MO. Lots of baby clothes, clothes, furniture, and misc items! (Heather Capps)
WEBSTER — 225 Church St., Marshfield (behind McDonalds), Fri. & Sat. Aug. 6 & 7, 8 a.m. (Tammy Moles Burnham)
WEBSTER — 852 E. Bedford St., Marshfield 65706. Lots of kids clothes and women's plus size. (Lucinda Wagner)
WEBSTER — Crossroads EMC Church right on Hubble Drive, Route 66 in Marshfield, Friday and Saturday. (Ashley Lawson)
WEBSTER — We will be having a yardsale Friday and Saturday at 2400 Straight Rd. This is Webster County, 4 miles out of Conway. (David Bell)
WEBSTER — 853 Niangua Road, Niangua, Mo. Just off Rt. 66 (cc). 4-family yard sale, a little bit of everything. Homemade oils and barbecue sauce. Antique dishes, furniture. Horse tack and fishing poles. (Chelle Wevers)
WEBSTER — Friday, Saturday: Laverda Southard - 187 Deerfield Drive, Niangua, Good quality baby clothes, Home Interior, Housewares, Lots of Dress Barn clothes (some new), Men's jeans, Smoker. Watch for signs.
WEBSTER — Saturday only. Edith Roderick and Steven Mitchell, 541 W. Hubble Drive, Marshfield.
WEBSTER — Friday and Saturday. Sara Hyde, 1335 W. Washington, Marshfield.
WEBSTER — 9679 State Hwy CC, Niangua. 3-family yard sale! SATURDAY ONLY!!! (Debbie Gann Dampier)
WEBSTER — Route 66 Car Show Award Winning 1929 Model T pickup with crankshaft. Has Route 66 Mo county license plates where traveled in parades and along routes as part of local car clubs. Near mint, always garaged, serviced in Jan. Jenn Parker at 520.809.0810 for more info. Webster County near Springfield.
WEBSTER — 2700 Northview Rd., Marshfield, garage sale, everything from furniture to man cave items, here is some of what I have! Roll top desk, Rustic Bar, Kitchen table/chairs, Toolboxes, tile flooring, barber chair, lamp, mirrors, pet supplies, antique wagon wheels, patio screen doors, bathroom sinks, tow bar, 4wd tractor, and a Lot more. (Jerry Chapman)
WEBSTER — Crossroads EMC corner of Marshall and CC aka Route 66 in fellowship hall. Had a great time last year, glad to be in it this year. (Roberta Vasquez)