The first five members of the Laclede County Route 66 Wall of Fame were inducted Monday night in a ceremony at the Lebanon-Laclede County Route 66 Society's annual membership meeting. Route 66 Society President Bruce Owen presented plaques to: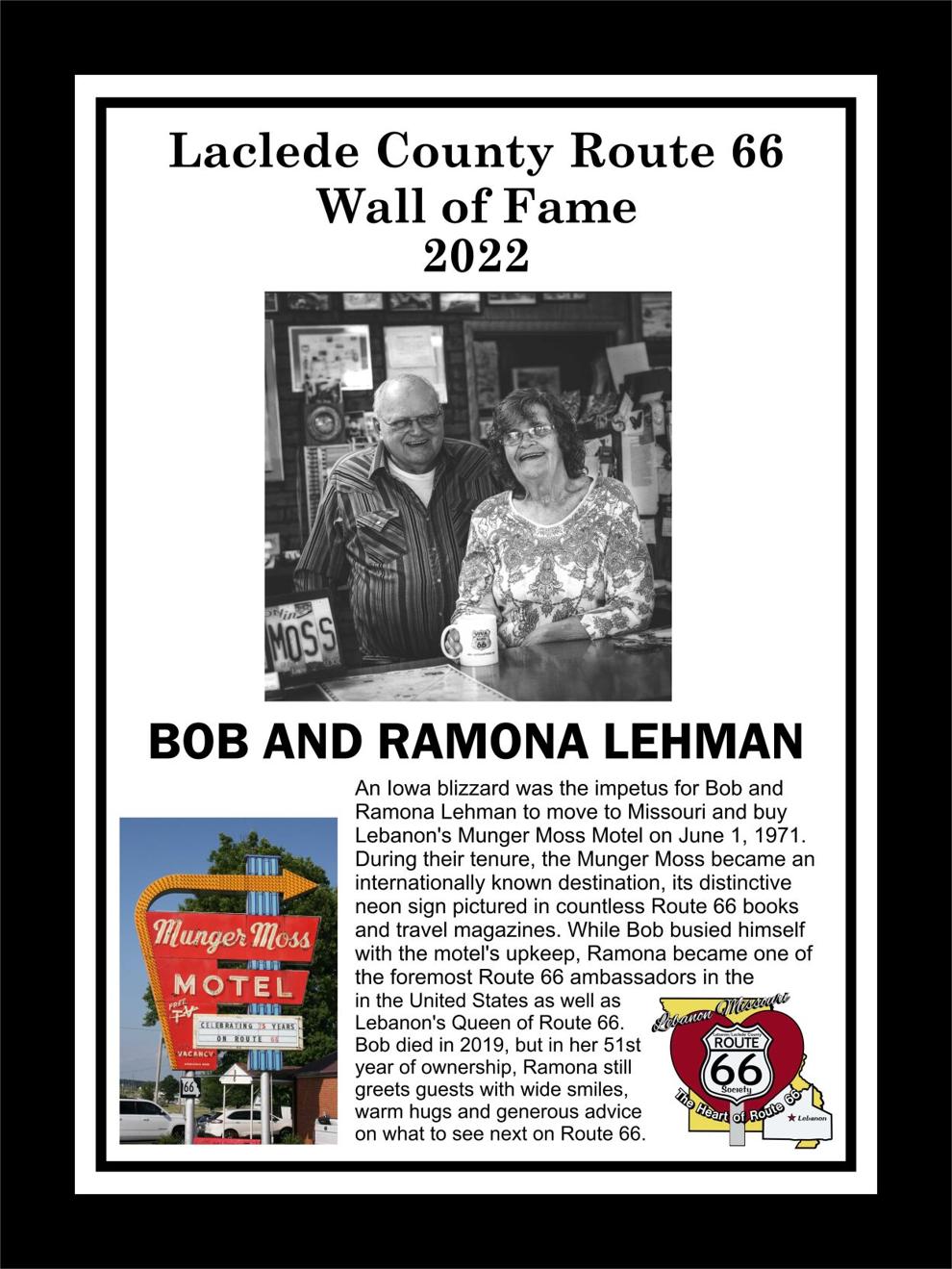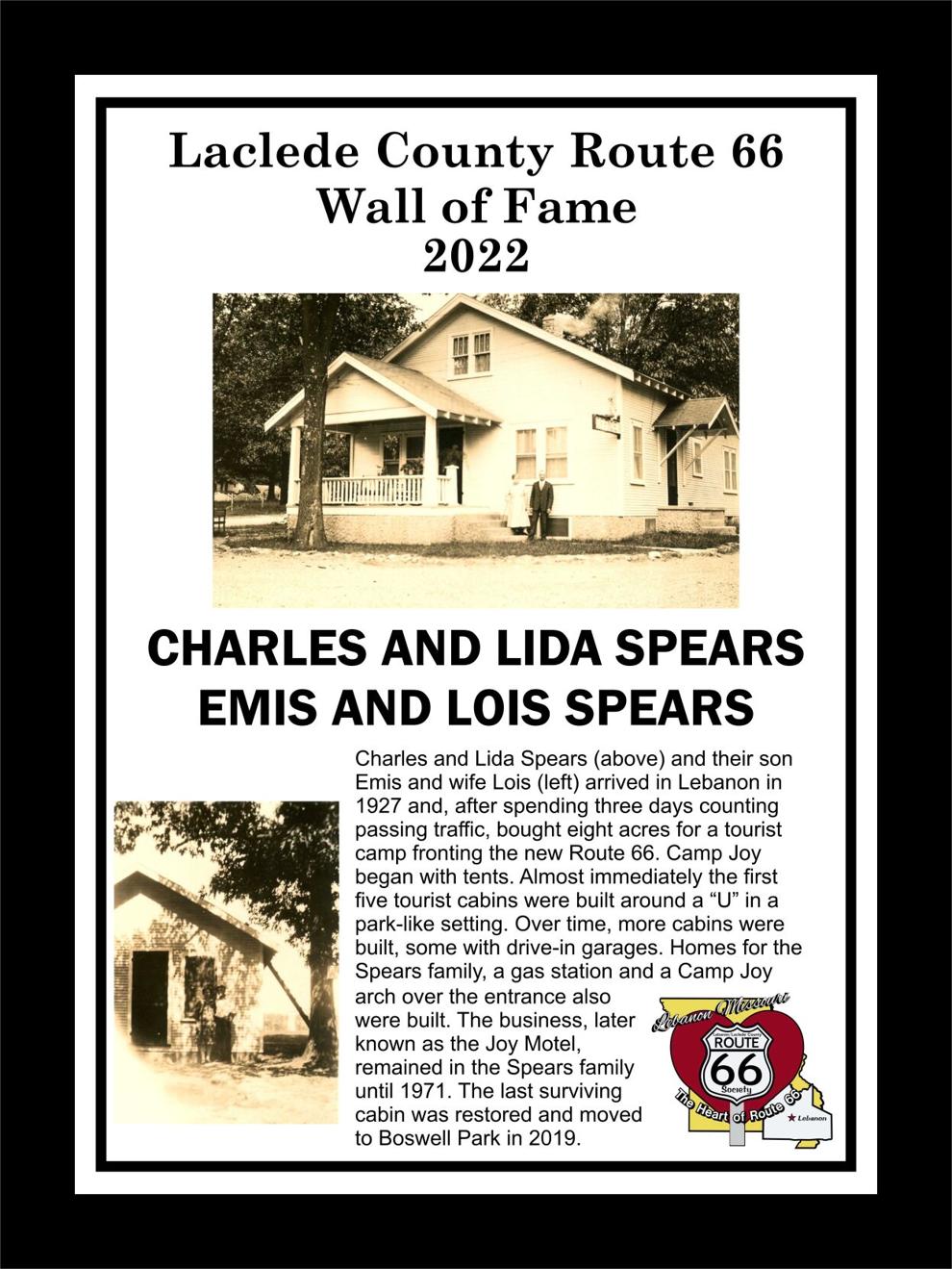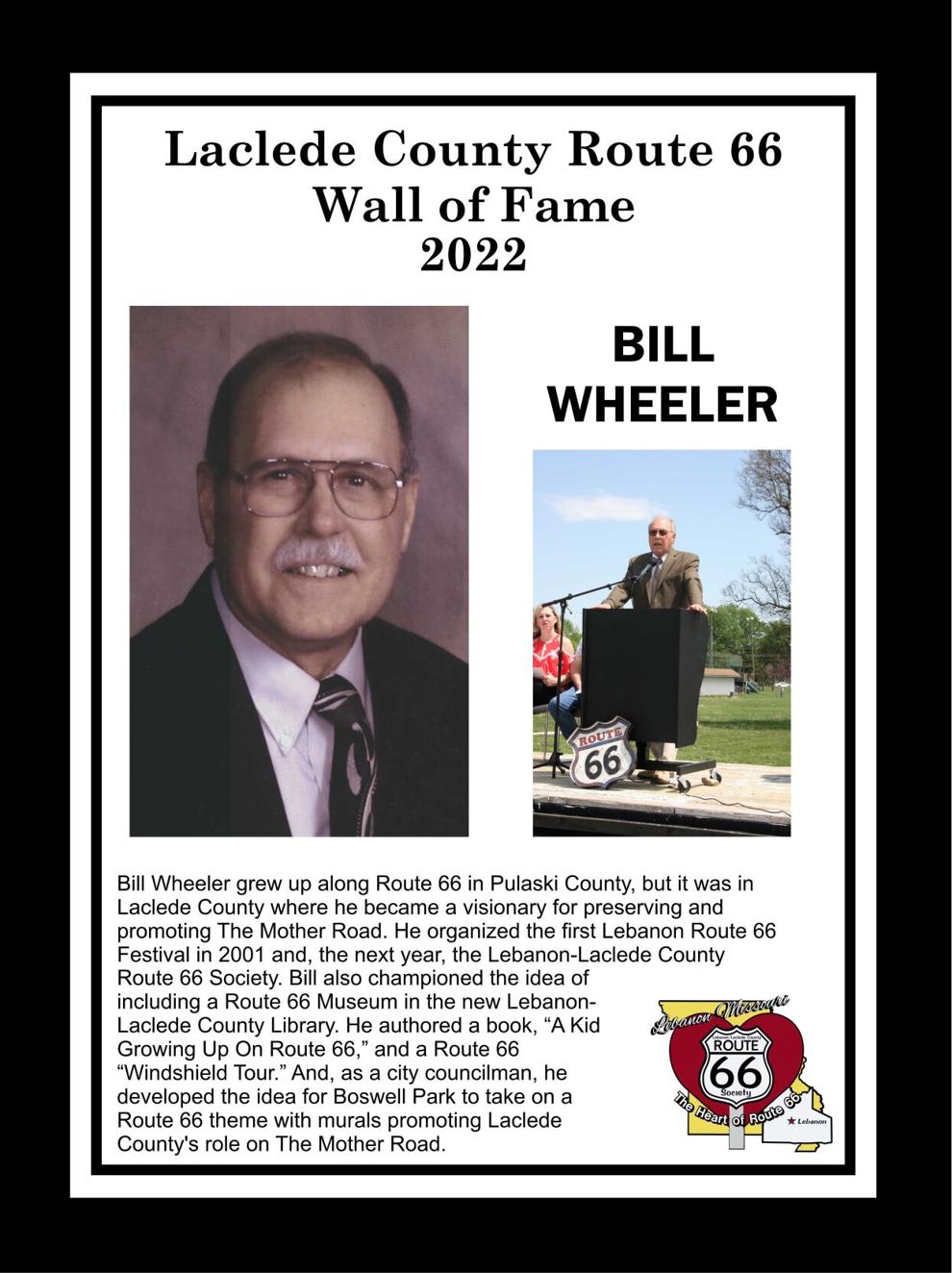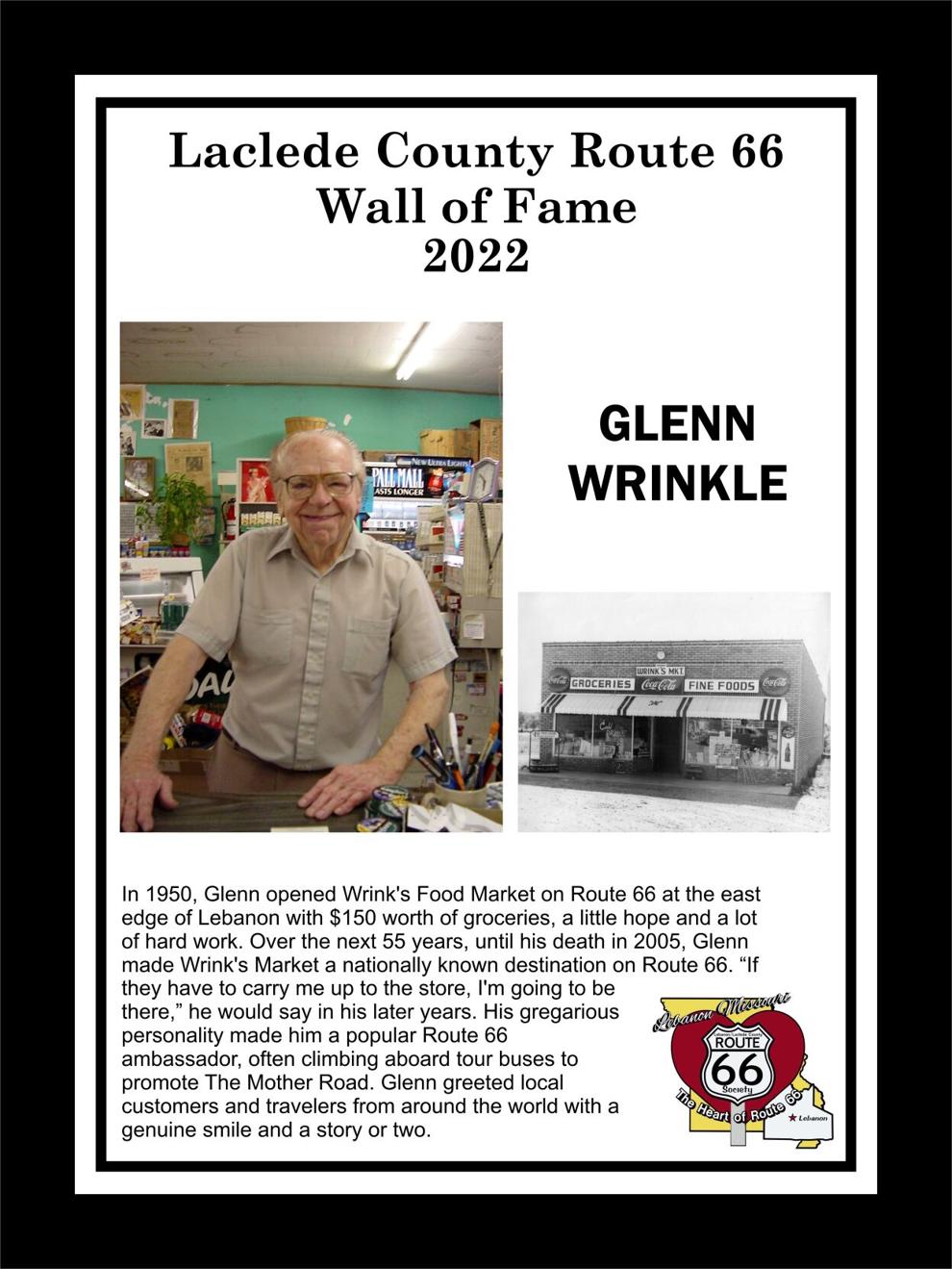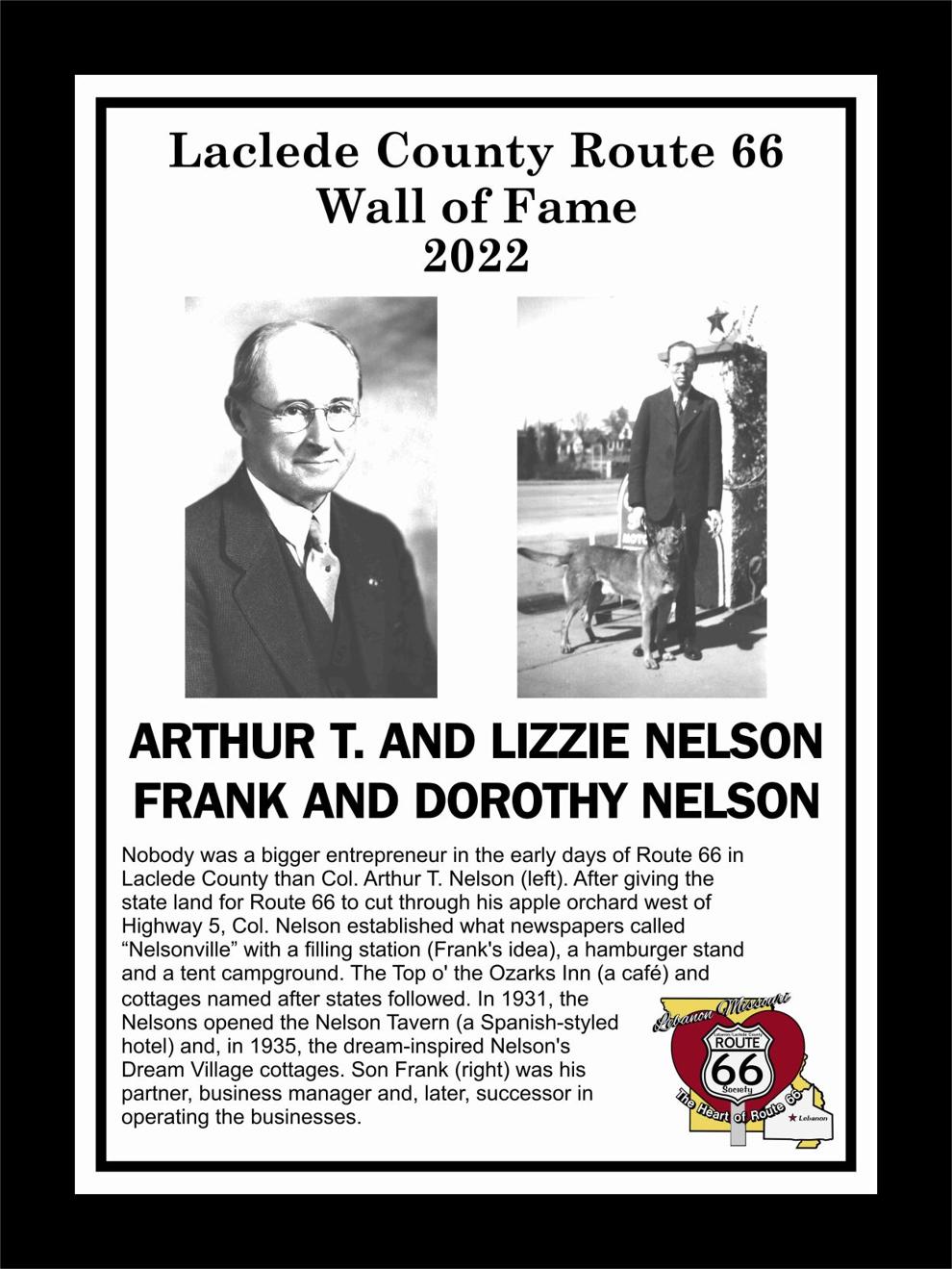 Shelly Cravens and Mary Jo Shadel, representing their parents, Ramona and the late Bob Lehman, who in 1971 bought the Munger Moss Motel, which Ramona Lehman still operates today.
Donna Fishel, representing the late Charles and Lida Spears and Emis and Lois Spears, founders of Camp Joy. Donna's mother-in-law was Joy Spears Fishel, who was named after Camp Joy.
David Wheeler, son of the late Bill Wheeler, originator of the Lebanon Route 66 Festival and the Route 66 Society.
Terry Wrinkle, son of the late Glenn Wrinkle, operator of Wrink's Market for 55 years.
Bruce Owen accepted a plaque from emcee Gary Sosniecki in honor of his ancestors Col. Arthur T. and Lizzie Nelson and Frank and Dorothy Nelson, founders of the Nelson Tavern (a hotel) and Nelson's Dream Village.
Route 66 Museum report
Also at Monday's meeting, Cathy Dame, director of the Lebanon-Laclede County Library, reported that despite the pandemic, the Route 66 Museum guest book was signed by visitors from 29 countries in 2021. The country with the most visitors was Russia.
All 50 states were represented in the guest book, "I think for the first time," Dame said. Illinois had the most visitors. Maine and Rhode Island had the least, two each.
The museum had visitors from 195 Missouri cities.
"Really, not that bad of a year considering all that happened," Dame said.
Numbers were down from pre-pandemic 2019 (58 countries, 49 states, 200 Missouri cities), but up from 2020 (17 countries, 46 states, 143 Missouri cities).
Dame also reported that the Missouri Department of Transportation is working with the museum on a future display about the Route 66 Gasconade River Bridge at Hazelgreen.
Tourism report
In a report on Lebanon tourism, director Rebecca Rupard said Route 66 remains one of Lebanon's top attractions. "It draws visitors from all over the world. We're excited that the world may be opening up again soon (post-pandemic)."
Rupard said Lebanon's Route 66 heritage is advertised regularly in Show Me Route 66 Magazine and, nationally, in ROUTE Magazine.
Considering that 80 percent of vacations are researched online, Lebanon also promotes digitally, Rupard said. Lebanon tourism also added two billboards to the existing two billboards promoting Route 66 this year.
Route 66 Society President Bruce Owen said Rupard "does an outstanding job for us and the city."
Route 66 Festival update
Heritage Bank of the Ozarks again will be the presenting sponsor of the Lebanon Route 66 Festival this year thanks to a $5,000 check that Chief Executive Officer and President Kim Light presented Monday night to Bruce Owen, president of the Lebanon-Laclede County Route 66 Society. (See separate story).
Rebecca Rupard and Lindsey Slavens are co-chairmen of this year's festival, which again will be held downtown on the Friday night and at Boswell Park on the Saturday of Father's Day weekend.
Route 66 Society treasurer Cliff Claxton reported that "East Bound and Down," a group of "Smokey and the Bandit" enthusiasts, including a Sheriff Buford T. Justice look-alike, has been booked to bring its vehicles to the festival.
Board election
Four Route 66 Society board members were reelected by acclamation to three-year terms: Chuck Jordan, Bruce Owen, Cliff Claxton and Gary Sosniecki. All officers were elected for two-year terms last year.
About 50 attended the meeting.