Tiles will be replaced on the Boswell Park Route 66 mural that was damaged last weekend, President Bruce Owen told the Lebanon-Laclede County Route 66 Society board Tuesday.
Owen said the city of Lebanon is checking its insurance coverage, then will bring the matter before the City Council for final approval.
"They're going to replace the whole thing," he said.
Most of the ceramic tiles slipped off their stone base sometime between Saturday afternoon and Sunday evening, when a visitor posted a photo of the damage to the Lebanon-Laclede County Route 66 Society Facebook page.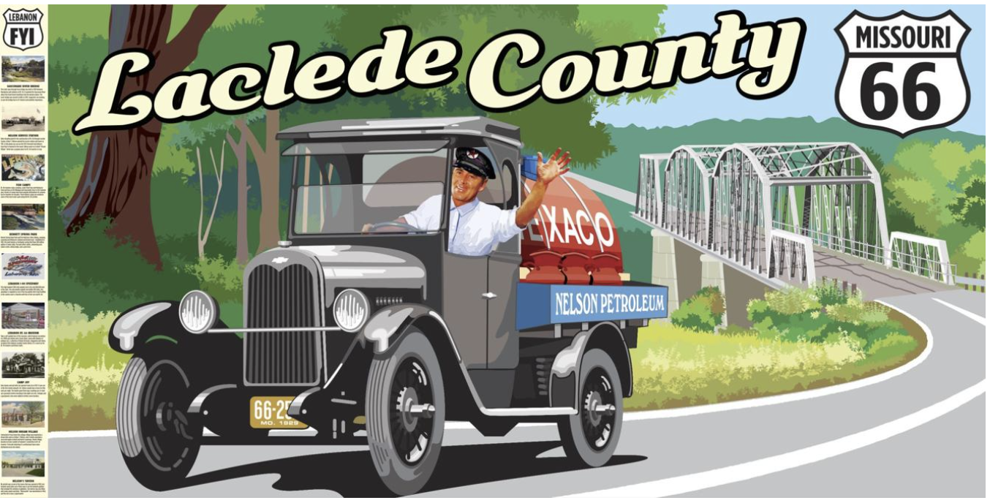 The Laclede County Record reported on its Facebook page Tuesday afternoon:
"Some of the mural tiles were scarred by vandalism some time ago, which led to a bigger problem over time, according to Lebanon Parks Director John Shelton. Shelton believes that moisture got behind some of the broken tiles and this caused more to fall off of the mural. 'The issue appears to have been that when some of the tiles on top were damaged, it let water to get behind the tiles, which with the freezing and thawing caused them to pop loose and apparently we had a catastrophic failure sometime over the weekend,' he said."
The Record will have more on the story in Wednesday's newspaper.
The pile of broken tiles was cleaned up Monday.
The mural, finished June 21, 2017, was the second of three built as Boswell Park was redeveloped with a Route 66 theme. Each mural cost $25,000, not including the stone bases. The $75,000 for the three murals was financed by 143 donations from the community.
The murals, along with the restored Camp Joy cabin, have made Boswell Park a major Route 66 tourist attraction for Lebanon.
The damaged mural shows a Nelson Petroleum truck crossing the Route 66 Gasconade River Bridge.
Owen said he does not know if the mural will be repaired in time for this year's Route 66 Festival June 17-18.