An amphitheater for concerts and other events at Route 66-themed Boswell Park remains on track to be finished before the 2021 Lebanon Route 66 Festival.
The Lebanon City Council heard a presentation on the project at its work session Thursday night.
The city proposes to order a 40-by-25 pre-engineered amphitheater at a cost of $51,536, not including installation. Derek Gean, the city's communications manager, said today that the project will be paid for with a portion of savings from the Cowan Civic Center remodeling project, which came in under budget, along with funds from the park board.
Gean said council members were favorable to the project. If everything works out with bids, and the park board approves, the amphitheater will go before the council for approval at its Dec. 14 meeting.
The park board will review the project at its Dec. 9 meeting.
The amphitheater will be built in right-center field of what now is a ballfield at Boswell Park. The ballfield has become superfluous with the additional fields built this year at new Nelson Park.
"The target is for this project to be completed by Father's Day – in time for the Route 66 festival," Gean said.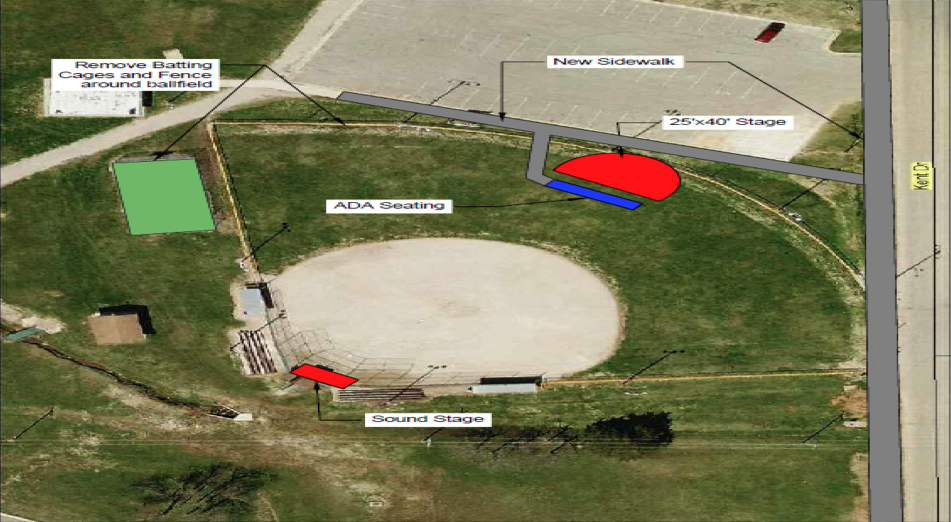 The Lebanon-Laclede County Route 66 Society has lobbied for the amphitheater to save the expense of renting a stage for the annual Route 66 Festival, which has been held at Boswell Park on the Saturday of Father's Day weekend since 2017. The 2021 festival will be Lebanon's 14th.
"It's great," Route 66 Society President Bruce Owen said Friday about the project. "It's good to have (the city) working with us. It'll be a good thing."
Owen said the amphitheater "will be used for much more than the people will ever imagine. This is something we can really be proud of."