The Lebanon-Laclede County Route 66 Society grew out of a festival in Lebanon celebrating the 75th birthday of Route 66 on Sept. 8, 2001. That first Route 66 Festival was the idea of Bill Wheeler, then the event coordinator for the Kenneth E. Cowan Civic Center, and a local amateur-radio club.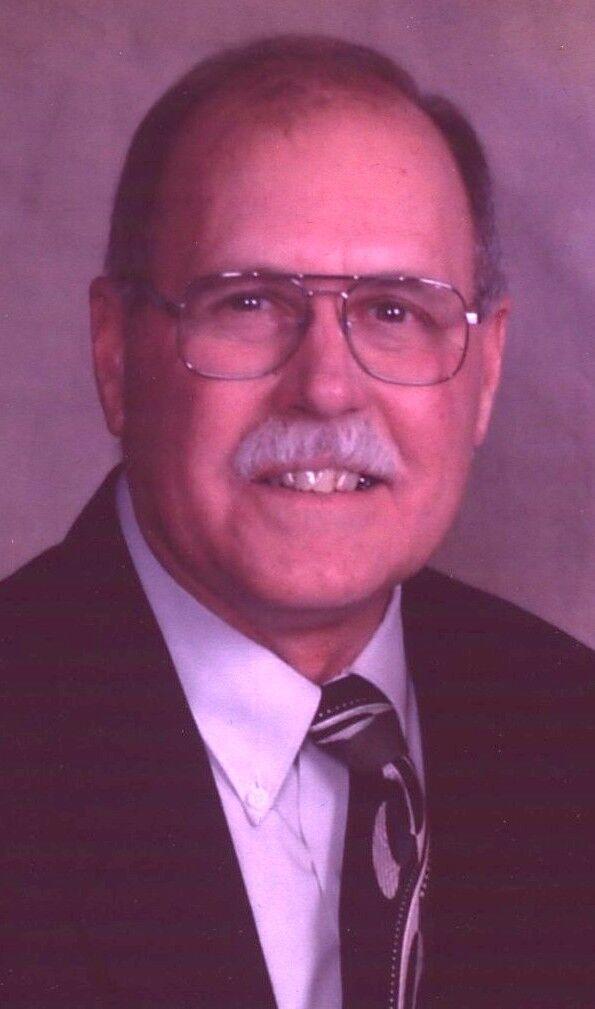 The club was seeking Federal Communications Commission approval for a special-event station using a call sign that included Route 66. "The FCC was seeing if it would all work in preparation for the celebration of the anniversary," Wheeler said in an interview with The Lebanon Daily Record's Julie Turner.
"Then somebody said, 'Bill, we've never had a Route 66 activity of any kind and why don't you think about it?'"
Wheeler did think about it and brought the idea of a festival before his advisory committee.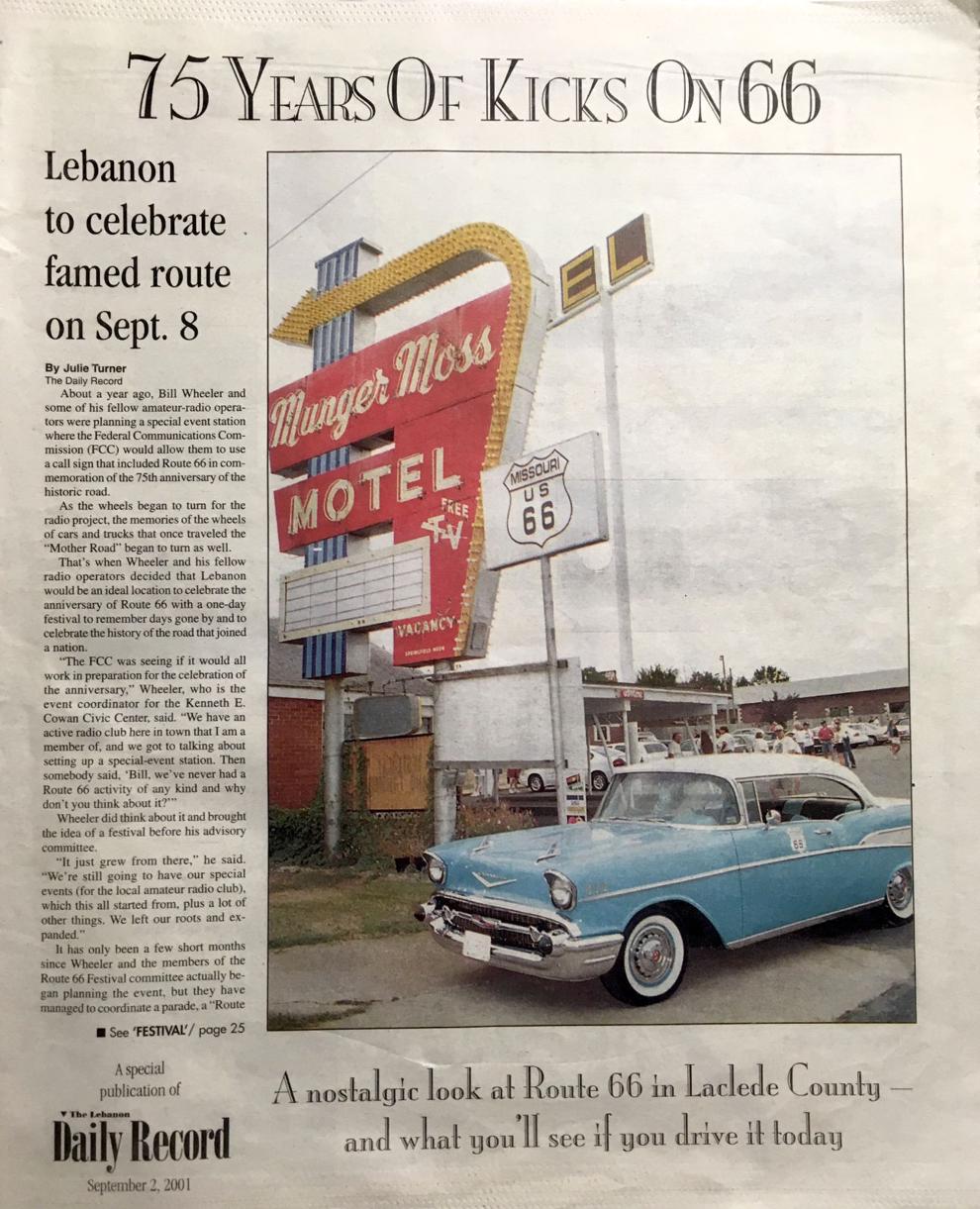 "It just grew from there," he said. "We're still going to have our special events (for the local amateur radio club), which all this started from, plus a lot of other things. We left our roots and expanded."
Wheeler and the newly formed Route 66 Festival Committee planned an event that included a parade on Route 66 from B and D Truck Port to Laclede Electric Cooperative, with a swing through the Cowan Civic Center parking lot. The festival also included a "Route 66 Museum" of old photos set up at the civic center, book signings of authors of several Route 66 books, an old-time ballgame and a sock hop with jukebox music.
"We're going to educate people about what was there (on Route 66)," Wheeler said. "That is what this is all about. Educating people about what Route 66 was is what we want to do."
The first festival was such a success that the Route 66 Festival Committee began planning a second festival for 2002. Along the way, the vision grew for promoting Route 66 in Lebanon and Laclede County.
That vision was explained in a July 14, 2002, editorial by Lebanon Daily Record co-publisher Gary Sosniecki, a member of the festival committee.
"Route 66 not just any old highway" was the headline. The editorial read:
The "proofs" on "Route 66: Laclede County Memories" came back from our printer Sunday, and with 280 pictures to look at, it's been hard to put them down.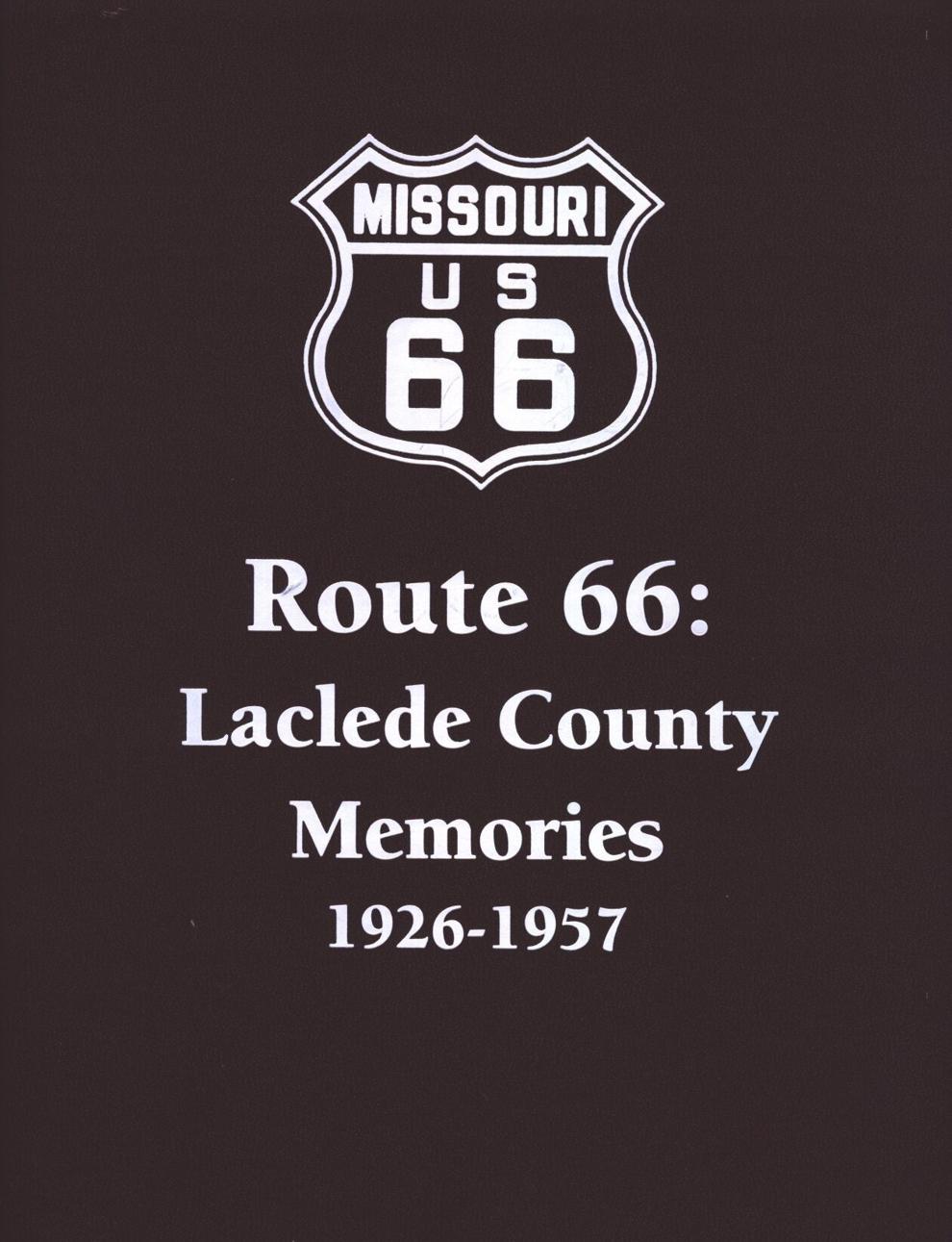 The proofs are a prepublication copy of the 96-page hardcover book The Daily Record is publishing in conjunction with the second annual Lebanon Route 66 Festival, scheduled for Sept. 6-7.
Advance orders for the book have gone so well that when we return the proofs this week with our final corrections, we plan to increase the print order by 100 to a total of 600.
The local interest in Route 66 continues to grow, which is remarkable considering that it's been 45 years since The Main Street of America included Lebanon's Elm Street.
Michael Wallis, a Route 66 historian who will speak at this year's Route 66 Festival, tried to explain the highway's mystique at a recent newspaper conference in Joplin.
"Route 66 is not just nostalgia — it's not just James Dean and poodle skirts, although there's a lot of that if you want it — but it's alive," Wallis said.
More than 85 percent of the original Route 66 remains for drivers to enjoy, Wallis said, and, in some places, improvements to and along the highway make it look better than it did when Route 66 was a certified part of the federal highway system.
"The pulse is strong, the beat is steady, the highway teems with activity," Wallis said.
Such is the case in Lebanon, where new hotels co-exist with the Route 66-era Munger Moss, where 3-year-old Danny's IGA coexists with 52-year-old Wrink's Market.
"The average person in this town doesn't realize the amount of traffic that Route 66 attracts to this town," Bill Wheeler, event coordinator for the city of Lebanon, said Wednesday night when the Route 66 Festival Committee met.
"I just think it's an economic opportunity Lebanon hasn't taken advantage of."
Wheeler is right, The Route 66 Festival is a good start, but other Missouri towns have Route 66 festivals, too, including one as close as Strafford. But think of the economic benefits if Lebanon had the pre-eminent Route 66 festival in Missouri.
Why couldn't we eventually aim for an event in the scale of the three-day International Route 66 Mother Road Festival in Springfield, Ill., which this year will include activities covering a 20-block area of the downtown, including an appearance by Route 66 TV star Martin Milner and the "World's Largest Sock Hop" featuring Paul Revere and the Raiders, Herman's Hermits and the Drifters.

Why couldn't we have a permanent Route 66 museum in Lebanon, either in the long-promised visitors' center or in the new library? These are ideas tossed about by the Route 66 Festival Committee — and you probably have some, too.
If it had been any other highway, Lebanon would have forgotten about Route 66 on Aug. 8, 1957, the day Interstate 44 bypassed our city.
But Route 66 isn't any other highway. The world hasn't forgotten about it, and that's to the advantage of Lebanon and any other community that keeps its Route 66 heritage alive.
———
The 600 copies of "Route 66: Laclede County Memories" sold out quickly. It was reprinted as a paperback in 2021 and remains available at the Lebanon-Laclede County Library gift shop and the Laclede County Record office. The newspaper and the Route 66 Society partnered on reprinting the book.
The Lebanon Route 66 Festival didn't grow into Missouri's pre-eminent Route 66 Festival. That honor belongs to Springfield's Birthplace of Route 66 Festival, which began in 2010, nine years after Lebanon's. No festivals were held in Lebanon from 2010 to 2016, but the Route 66 Society, in partnership with the Lebanon Parks and Recreation Department, resumed the festival in 2017. The 2023 festival on June 3 will be Lebanon's 16th.
Back to that editorial: Twenty-one years later, we know that the most-important sentence turned out to be: "Why couldn't we have a permanent Route 66 museum in Lebanon, either in the long-promised visitors' center or in the new library?"
It didn't take long for that idea to take hold. The July 24 Lebanon Daily Record reported that "Library may have Route 66 flavor." Reporter Matt Decker's story read:
Area residents may someday be able to get their Route 66 kicks at their local library.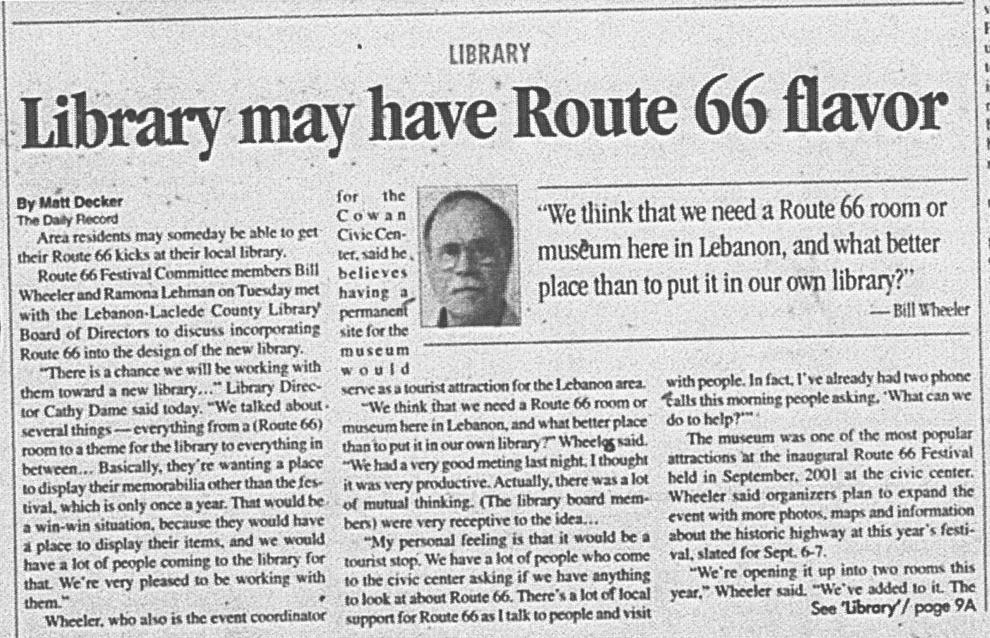 Route 66 Festival Committee members Bill Wheeler and Ramona Lehman on Tuesday met with the Lebanon-Laclede County Library Board of Directors to discuss incorporating Route 66 into the design of the new library.
"There is a chance we will be working with them toward a new library . . ." Library Director Cathy Dame said today. "We talked about several things — everything from a (Route 66) room to a theme for the library to everything in between. . .  Basically, they're wanting a place to display their memorabilia rather than the festival, which is only once a year. That would be a win-win situation, because they would have a place to display their items, and we would have a lot of people coming to the library for that. We're very pleased to be working with them."
Wheeler, who also is the event coordinator for the Cowan Civic Center, said he believes having a permanent site for the museum would serve as a tourist attraction for the Lebanon area.
"We think that we need a Route 66 room or museum here in Lebanon, and what better place than to put it in our own library?" Wheeler said. "We had a very good meeting last night. I thought it was very productive. Actually, there was a lot of mutual thinking. (The library board members) were very receptive to the idea. . .
"My personal feeling is that it would be a tourist stop. We have a lot of people who come to the civic center asking if we have anything to look at about Route 66. There's a lot of local support for Route 66 as I talk to people and visit with people. In fact, I've already had two phone calls this morning people asking, 'What can we do to help?'"
The museum was one of the most popular attractions at the inaugural Route 66 Festival held in September 2001 at the civic center. Wheeler said organizers plan to expand the event with more photos, maps and information about the historic highway at this year's festival, slated for Sept. 6-7.
"We're opening it up into two rooms this year," Wheeler said. "We've added to it. The problem is it's only two or three days every September and after the festival we have to put everything away. I think if we had a permanent home, we would have even more exhibits. We have enough memorabilia collected right now that we could rotate items in and out of it."
Both Wheeler and Dame stressed that including Route 66 in the new library design is still in the discussion stages.
"There are a lot of things left to do," Wheeler said. "I think we will be meeting with them in the near future."
The library board is in the midst of planning a project to raise up to $1 million to renovate Lebanon's former Kmart building into a new library. Dame said today that library officials are close to deciding on an architect to design the project. . .
———
While the Route 66 Festival Committee continued to lobby for the new library to include a Route 66 museum, committee members were busy planning the 2002 Route 66 Festival, which was preceded by the first Miss Route 66 Pageant, held Aug. 27 in the Cowan Civic Center Theater.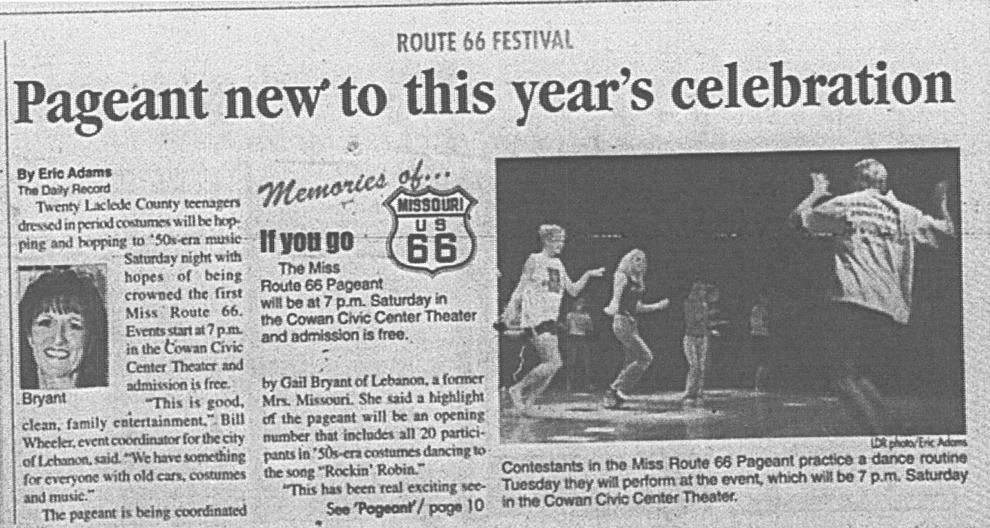 Stoutland High School sophomore Melanie Clark was crowned the first-ever Miss Route 66 in front of about 500 spectators. Seventeen Laclede County teenagers participated. Clark, 15, presided as a VIP throughout the Route 66 Festival car show, parade and sock hop Sept. 6-7.
The Lebanon Daily Record again published a special section promoting the Route 66 Festival. The cover story read:
Old memories will be relived and new memories will be made this weekend at the second annual Lebanon Route 66 Festival.
Activities are scheduled for Friday evening and Saturday, but a museum of Route 66 memorabilia will open at noon Thursday. (NOTE: The Lebanon-Laclede County Route 66 Museum in the new library didn't open until the library did in 2004.)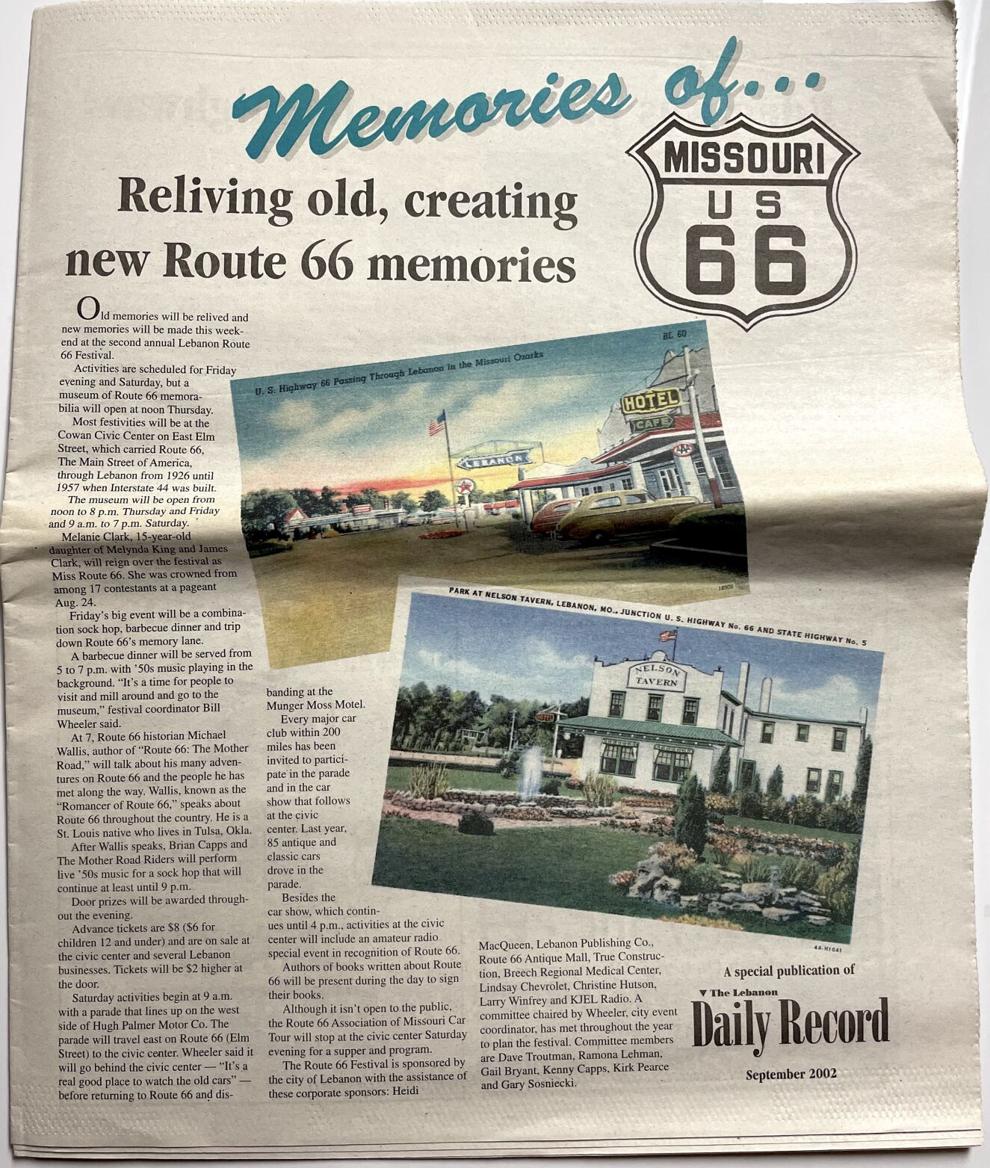 Most festivities will be at the Cowan Civic Center on East Elm Street, which carried Route 66, The Main Street of America, through Lebanon from 1926 until 1957 when Interstate 44 was built.
The museum will be open from noon to 8 p.m. Thursday and Friday and 9 a.m. to 7 p.m. Saturday.
Melanie Clark, 15-year-old daughter of Melynda King and James Clark, will reign over the festival as Miss Route 66. She was crowned from among 17 contestants at a pageant Aug. 24.
Friday's big event will be a combination sock hop, barbecue dinner and trip down Route 66's memory lane.
A barbecue dinner will be served from 5 to 7 p.m. with '50s music playing in the background. "It's a time for people to visit and mill around and go to the museum," festival coordinator Bill Wheeler said.
At 7, Route 66 historian Michael Wallis, author of "Route 66: The Mother Road," will talk about his many adventures on Route 66 and the people he has met along the way. Wallis, known as the "Romancer of Route 66," speaks about Route 66 throughout the country. He is a St. Louis native who lives in Tulsa, Okla.
After Wallis speaks, Brian Capps and The Mother Road Riders will perform live '50s music for a sock hop that will continue at least until 9 p.m.
Door prizes will be awarded throughout the evening.
Advance tickets are $8 ($6 for children 12 and under) and are on sale at the civic center and several Lebanon businesses. Tickets will be $2 higher at the door.
Saturday activities begin at 9 a.m. with a parade that lines up on the west side of Hugh Palmer Motor Co. The parade will travel east on Route 66 (Elm Street) to the civic center. Wheeler said it will go behind the civic center — "It's a real good place to watch the old cars" — before returning to Route 66 and disbanding at the Munger Moss Motel.
Every major car club within 200 miles has been invited to participate in the parade and in the car show that follows at the civic center. Last year, 85 antique and classic cars drove in the parade.
Besides the car show, which continues until 4 p.m., activities at the civic center will include an amateur radio special event in recognition of Route 66.
Authors of books written about Route 66 will be present during the day to sign their books.
Although it isn't open to the public, the Route 66 Association of Missouri Car Tour will stop at the civic center Saturday evening for a supper and program.
The Route 66 Festival is sponsored by the city of Lebanon with the assistance of these corporate sponsors: Heidi MacQueen, Lebanon Publishing Co., Route 66 Antique Mall, True Construction, Breech Regional Medical Center, Lindsay Chevrolet, Christine Hutson, Larry Winfrey and KJEL Radio. A committee chaired by Wheeler, city event coordinator, has met throughout the year to plan the festival. Committee members are Dave Troutman, Ramona Lehman, Gail Bryant, Kenny Capps, Kirk Pearce and Gary Sosniecki.
——— 
Lebanon's second Route 66 Festival was such a success that Bill Wheeler thought it was time to organize a formal Route 66 organization. He explained the concept in a Sept. 25 Lebanon Daily Record article by Julie Turner:

With the popularity of the Mother Road growing, Bill Wheeler, Route 66 Festival organizer and Lebanon event coordinator, said the time has come for an independent organization to promote and preserve the historic highway.
An organizational meeting for the Route 66 Society of Laclede County will be held 7 p.m. Oct. 1 at the Cowan Civic Center and Wheeler invites anyone with an interest to attend.
"We have so many people that are interested and being a part of the festival and we can do a lot more things if we have our own society than if we keep it under the umbrella of the city (of Lebanon)," Wheeler said today. "We think we have a lot of opportunity for people who want to be involved with Route 66. It has really grown to the point that it has outgrown the four or five people who have been helping me over the last couple of years. We simply need more help and more involvement from everyone who has an interest."
Wheeler continued by saying that the society's organizers would like to make a grant application to the city for funding and would continue to work directly with the city.
"We want the city to be partners in this," he said. "But everyone who has dealt with this so far thinks we can do so many more things, such as supporting the (Lebanon-Laclede County Library) in their efforts to get a Route 66 museum and it is just better to have our own society. . .
"We are kind of limited to doing a festival once a year the way we are now and we'd like to expand that into maybe a couple of events in (a) year. We're wide open to suggestions right now. We'll have a lot of things going on."
Those involved on the Route 66 committee are busy looking at bylaws and Wheeler believes those bylaws will be adopted at the Oct. 1 meeting. The election of the society's officers and board members is also scheduled for the meeting.
Memberships will be sold to the society for those interested in becoming members, which Wheeler said will be "real cheap."
Wheeler said interest in Route 66 from people across the country and around the world has grown and the area should take an active role in its promotion.
"We are just now really, truly starting to recognize (Route 66)," he said. "It's always been here and we've taken it for granted all of these years. It is an economic opportunity and to take advantage of that we need a functioning organization. . .
"We have an average of two to three people in (the civic center) that stop and want to know about Route 66. They ask where they can go and what they can do."
Once fully organized, Wheeler hopes the society would be able to take advantage of matching grant opportunities and other funding.
"We'll be looking into that," he said.
One of the first projects Wheeler would like (for) the society to undertake is the development of a comprehensive map of Laclede County's portion of Route 66.
"People like to drive Route 66," he said. "We're extremely fortunate to have 90 percent of the old original highway still intact across the county. We are one of the top counties in that. We need to take advantage of that and develop a map that will be available. There is an economic impact from Route 66 and we want to take advantage of that."
———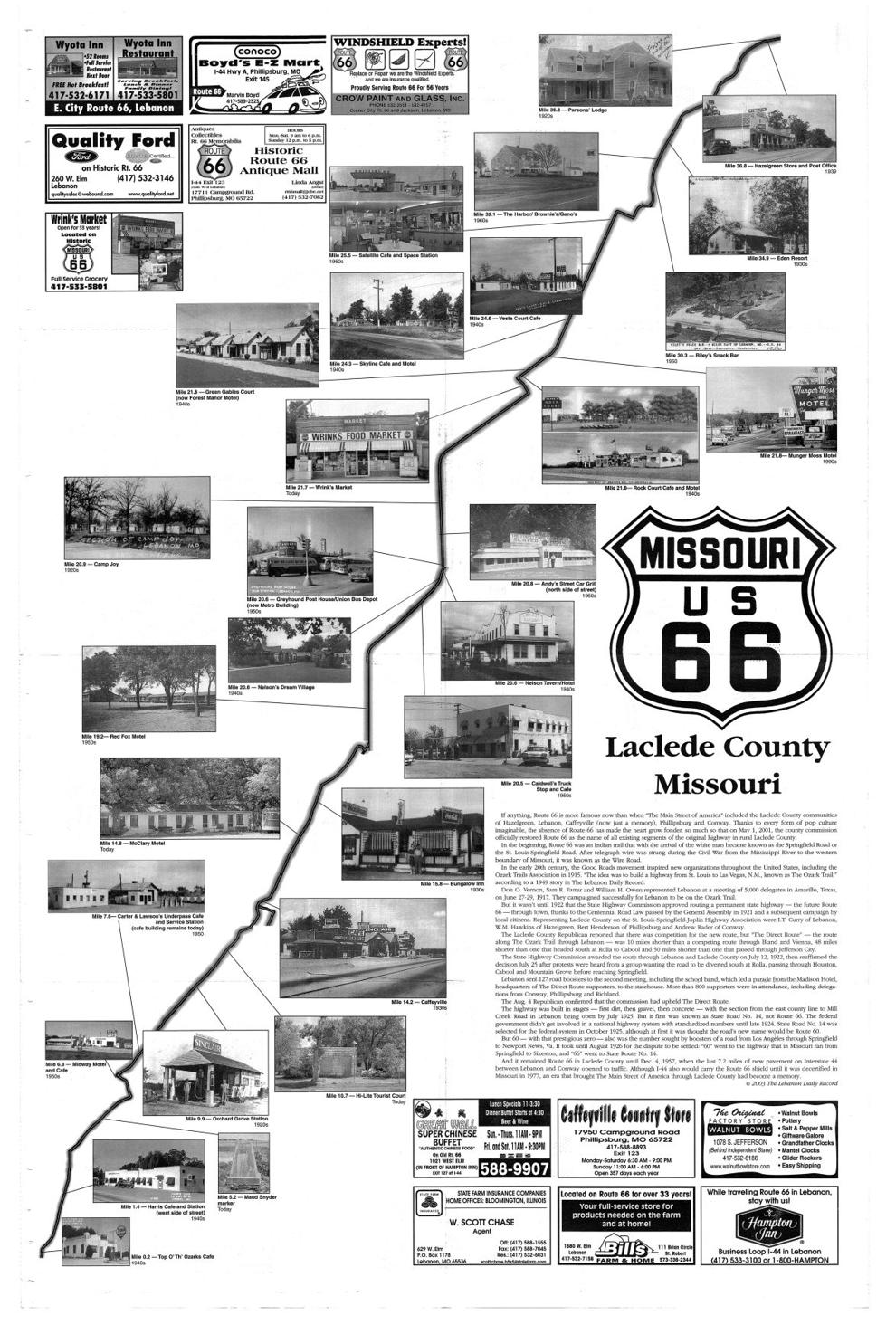 Indeed, in early 2003, the new Lebanon-Laclede County Route 66 Society and the Lebanon Daily Record partnered on a fold-out "Historic Route 66 Map for Laclede County, Missouri" with photos and a mile-by-mile listing of local Route 66 landmarks and attractions. In recent years, the map and mile-by-mile list are part of the annual Laclede County Route 66 Guide & Map, a partnership between the Route 66 Society and the Laclede County Record.
The Daily Record quoted Wheeler on Oct. 2, 2002, that the two-hour organizational meeting the night before "went extremely well" with 20 in attendance.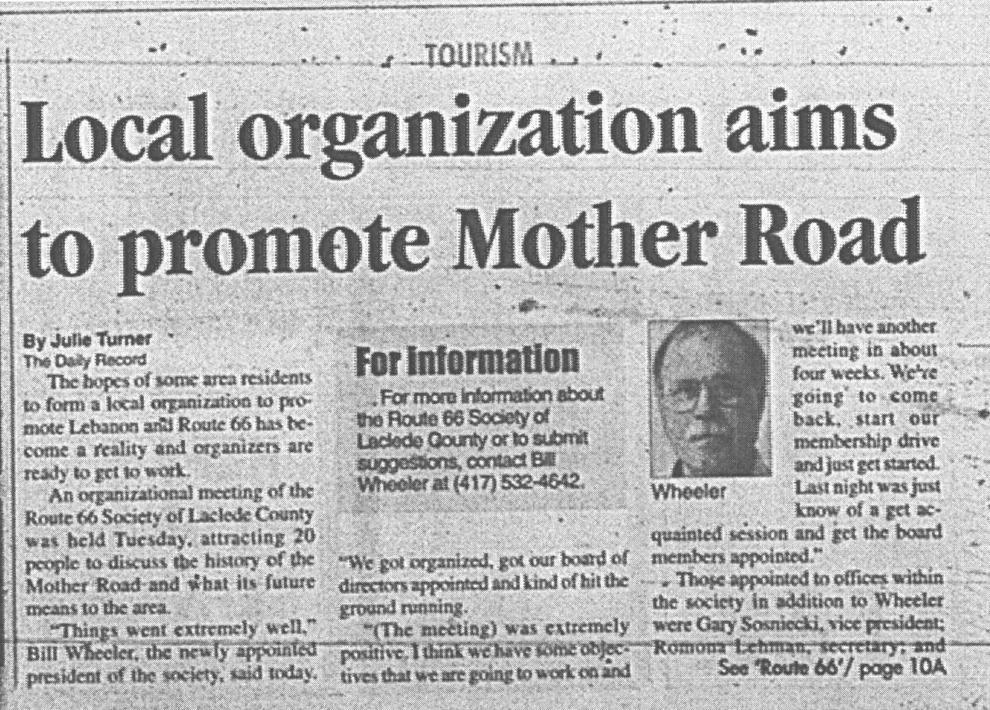 "We got organized, got our board of directors appointed and kind of hit the ground running," he said.
Wheeler was appointed president, Gary Sosniecki was appointed vice president, Ramona Lehman was appointed secretary, and Mike Edwards was appointed treasurer.
Others appointed to the 11-member board of directors were Dan True, Rod Reid, Dave Troutman, David Wheeler, Gail Bryant, Kenny Capps and Kirk Pearce.
One of the ideas discussed at the meeting was the presentation in spring 2003 of a two-act play, a musical, written by Frances Wood and Ron Atteberry, both of Lebanon. The play's setting was a diner along Route 66.
The Route 66 Society bylaws were finalized at the Oct. 29 meeting, then submitted to the Missouri Secretary of State's office along with an application for the Route 66 Society to become a Missouri nonprofit corporation.
Secretary of State Matt Blunt approved the application on Jan. 9, 2003. The Route 66 Society now is recognized as a 501 (c)(3), enabling donations to it to be tax-deductible.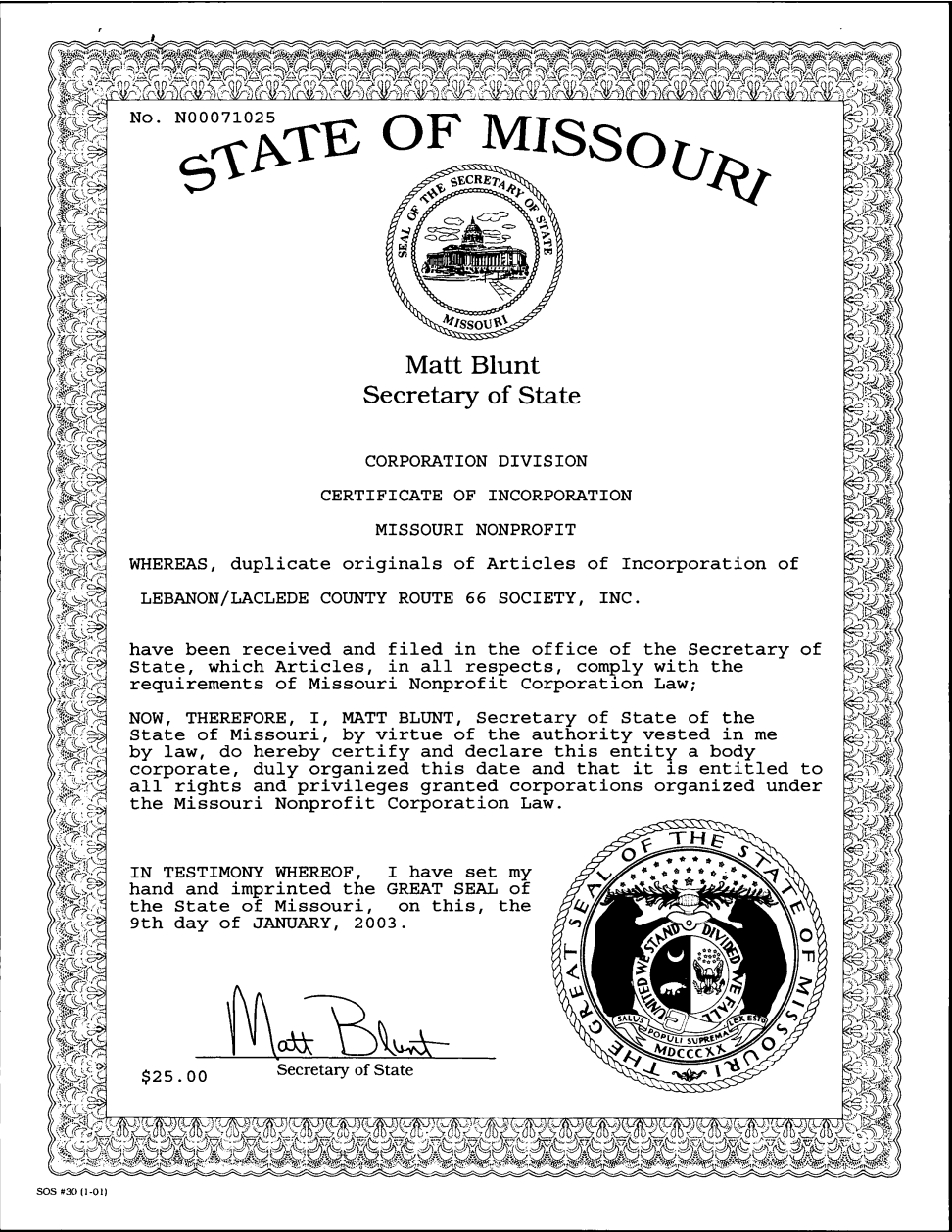 The Route 66 Society's mission, as stated in the bylaws, is "to educate, preserve, promote and develop Route 66 in Laclede County."
At the end of 2022, the Route 66 Society's officers were Bruce Owen, president; Mike Boggs, vice president; Terri Thelander, secretary; and Cliff Claxton, treasurer. Other board members were Ramona Lehman, Cathy Dame, Leland Townsend, Bill Jones, John Stowe, Chuck Jordan and Gary Sosniecki.