J. Floyd Caffey (1892-1980) did not appear to be a man of great historical deeds. Nevertheless, he was a leader of his community, a man to turn to in times of need, and a man of many talents. He was born in Laclede County, Missouri, on a farm dating back to the Civil War. In his younger days he was known to be a fancy dresser and was called "Toggy."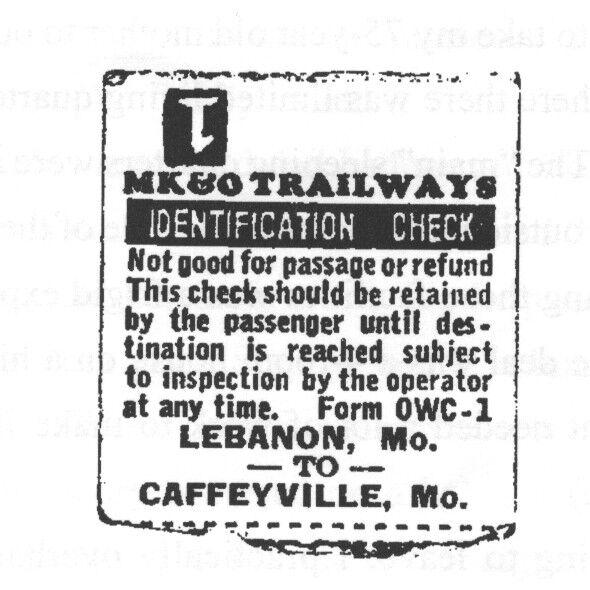 On June 9, 1915, at the county courthouse in Lebanon, J. Floyd married his one true love, little Pansy Vernon. It was a marriage lasting nearly sixty years. Three children were born to this union: Rheuben Verdett (known as Son), Floyd Dead (who died of rheumatic fever at age six) and, in later years, a daughter, Jessie.
J. Floyd started his first business on the old Springfield Road, selling ice water to travelers – all you could drink for five cents. (This early venture of hauling 100-pound blocks of ice from Lebanon, packed in straw for insulation, was only a start for the Caffey business. In later years, as a result of this unusual beginning, he was invited to be a guest on the TV show "What's My Line?" He declined this invitation due to his reluctance to travel by airplane to New York City.)
The demand for other supplies became greater at the little place they called Oak Grove. Ten cases of Coca-Cola were ordered from Springfield and shipped to Lebanon, then back to the Caffey store. Cold drinks sold so rapidly that candy bars, cigars, cigarettes, and gum were added. It became a thriving little store, with a few groceries, dried fruit, bread, and a barber shop with a real barber chair.
Wintertime brought rain and snow to the dusty Wire Road, keeping father and Son busy pulling autos out of the mud with a team of mules. Payment was not expected for this service; however, motorists were so glad to be "unstick" that payment was offered and accepted. (J. Floyd told of an Illinois man hat once gave him five dollars, which was a large sum in those days.)
In the early 1920s, there were rumors that a new national highway was to be constructed, starting in Illinois and ending in California. J. Floyd foresaw a business opportunity in supplying the needs of motorists traveling this road. After consulting with highway engineers about the proposed route (1/2 mile from his present location), he traded some land with his brother-in-law, Lee Vernon, who had property on the route. A new grocery store supplied needed items to the men building the highway. A small cafe soon opened, and a filling station (with two pumps) was added, proving "potential motorists in the future" regular and ethyl gasoline.
The businesses multiplied alongside the road, and the area was quickly becoming a small town. The name Caffeyville, suggested by attorney L.C. (Claude) Mayfield, was adopted in 1925. J. Floyd would later add another gas station, a feed mill for grinding corn and wheat, a campground, cabins for overnight guests, a garage, and several rental houses for families choosing to become part of the new community.
Life was busy for Pansy and J. Floyd, yet they longed for a little girl. Their dreams came true with the birth of a daughter in 1927, who they lovingly named Jessie, for the "J" in her father's name. Remembering the death of their son Dean, J. Floyd had an overwhelming concern for protecting Jessie that continued 'til the day he died.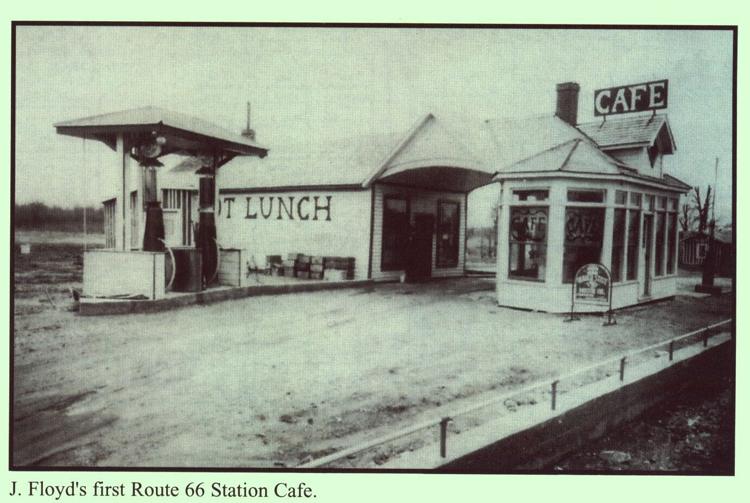 J. Floyd and his Caffeyville survived the days of Missouri's own dust bowl and the Great Depression. In this time of hunger and need for many families, he was their godsend. He gave financial credit to neighbors for needed groceries, knowing their bills probably would never be paid. Hobos walking along the highway were never turned down for a handout. Sandwiches were prepared each day for them, and they ate their meals at a picnic table under a large sugar maple tree out back.
Caffeyville had become the center of entertainment as well as trade. Baseball games were played in the lot by the barn and became a regular Sunday afternoon affair. Rook tournaments, horseshoe games, and roller skating races (on the cement driveway of the station) were always exciting. Saturday evening was "Grand Ole Opry" night. Neighbors and relatives gathered at "the store" to listen to the radio and to catch up on the local news. Frequently, neighbors would sit on J. Floyd's porch to listen to a Joe Louis fight or a World Series game.
J. Floyd, like many early businessmen, conducted his own marketing surveys. He would periodically have someone count the cars on Route 66 from both directions to determine where best to place his road signs advertising his station and store. (According to a log sheet, on Wednesday, June 12, 1933, there were 502 cars traveling east, and 57 stopped; 406 going west, 60 stopped.) J. Floyd also invented a cigarette dispenser use in his store that is similar to those still used today. Alas, he never applied for a patent on his device.
When Fort Leonard Wood was built in the early 1940s, it was an exciting time for J. Floyd and all the businesses on Highway 66 in that vicinity, because the army camp brought more business with it, and the need for a larger highway. The state of Missouri bought more highway right-of-way and widened U.S. 66 after World War II. Later, the highway became too small for a second time. This time the state bought all of Caffeyville! The new 4-lane road and interchange took all the land except for some acres on the west side of what is now I-44. It is on this site that the Caffey barn was relocated (1954) to store family belongings during their move to Lebanon. (Thieves later looted the barn, taking many treasured keepsakes. The old barn now (1995) stands alone, uncared for, unused, and soon to be destroyed. For many years it had served as a home for a cow or two, some chickens, and a very special brown and white pony named Glory. Today it strands as a vestige, or last reminder, of a town called Caffeyville.)
Pansy and J. Floyd spent the reminder of their lives in Lebanon. Son and Pansy preceded J. Floyd in death. He lived alone in the Caffey home until thieves broke in one fateful night while he slept. They robbed and severely beat him and left him for dead. But J. Floyd was not to leave this world in such an improper manner. He survived. He lived with his beloved daughter Jessie and her family for several years. One day in December 1980, at the age of 88, he told her, "We need bread and milk. I'll drive to the grocery store and get it." At the checkout counter, his coin purse in hand, J. Floyd was felled by a fatal heart attack. The aged man of many talents took with him not the bread and milk he had sought that day, but the love, admiration and gratitude of countless hundreds he had befriended along life's way. The time had come to put his concerns into the hands of others, for God now had different plans for the lifelong protector of "Jessie for the J," the man of many talents, the man named Jesse Floyd Caffey.
Click here to read other stories on Laclede County Route 66 history reprinted from the Winter 1995 issue of Show Me Route 66 magazine.