UPDATED: Applications for food and craft vendors who wish to set up on Friday and/or Saturday, June 18-19, at the Lebanon-Laclede County Route 66 Festival are now available.
Friday-evening activities will be in downtown Lebanon. Saturday daytime activities will be at Boswell Park.
Separate applications for food and craft vendors and for each day of the festival accompany this article and may be downloaded as PDFs. Different applications are needed for Friday and Saturday because the activities on each day have different sponsors.
The vendor fee for each day is $25.
Checks for Friday should be made out to the Lebanon Downtown Business District. Checks for Saturday should be made out to the Lebanon-Laclede County Route 66 Society.
To reserve a space, vendor applications must be received by June 14. Earlier applications are appreciated by the Festival Committee.
For questions about Friday night, contact Ashton Light at (417) 650-1379 or email alight@lebanonmo.org.
For questions about Saturday, contact Rebecca Rupard at (417) 532-4642, extension 2474, or email rrupard@lebanonmo.org.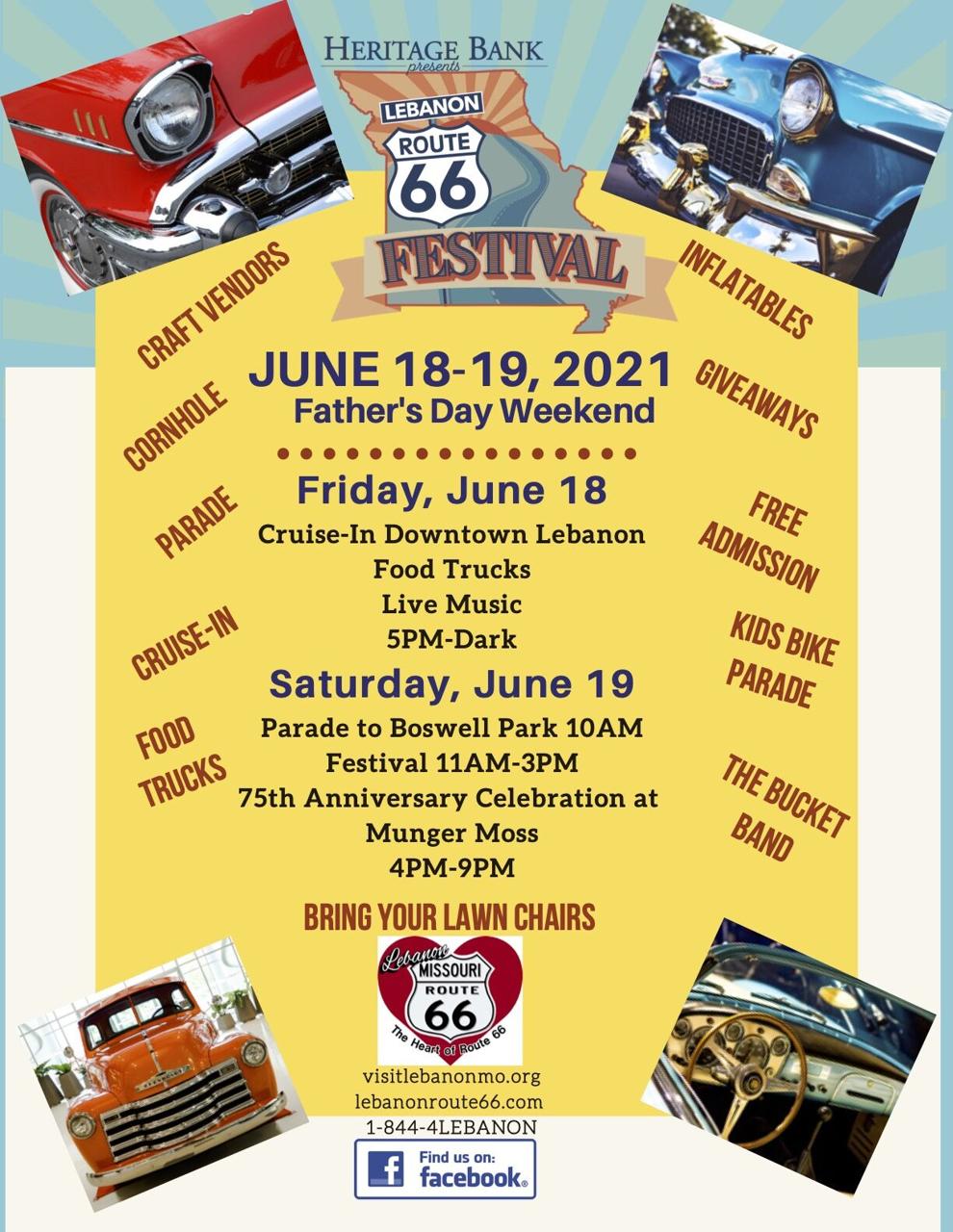 This year's Lebanon Route 66 Festival, presented by Heritage Bank of the Ozarks, will be June 18-19 with Friday evening's activities in downtown Lebanon and Saturday's daytime events at Route 66-themed Boswell Park. The festival then moves to the iconic Munger Moss Motel for a celebration of its 75th anniversary and the 50th anniversary of its ownership by Ramona and the late Bob Lehman. This will be Lebanon's 14th Route 66 Festival since 2001.
The Lebanon Downtown Business District is host of the Friday-evening events. The Route 66 Society, in partnership with the Lebanon Parks and Recreation and Tourism departments, is host of the Saturday events.
This year's theme ties in with the Missouri Bicentennial: "200 Years of Missouri, 95 Years of Route 66."