Three bands. Three cruise-ins. Three locations. Two days. One big parade.
That's the 2021 Lebanon Route 66 Festival presented by Heritage Bank of the Ozarks this Friday and Saturday.
 "It's going to be great," Bruce Owen, president of the Lebanon-Laclede County Route 66 Society, said. "With all the help we've got and everybody involved — we just need good weather. It's going to be a full weekend."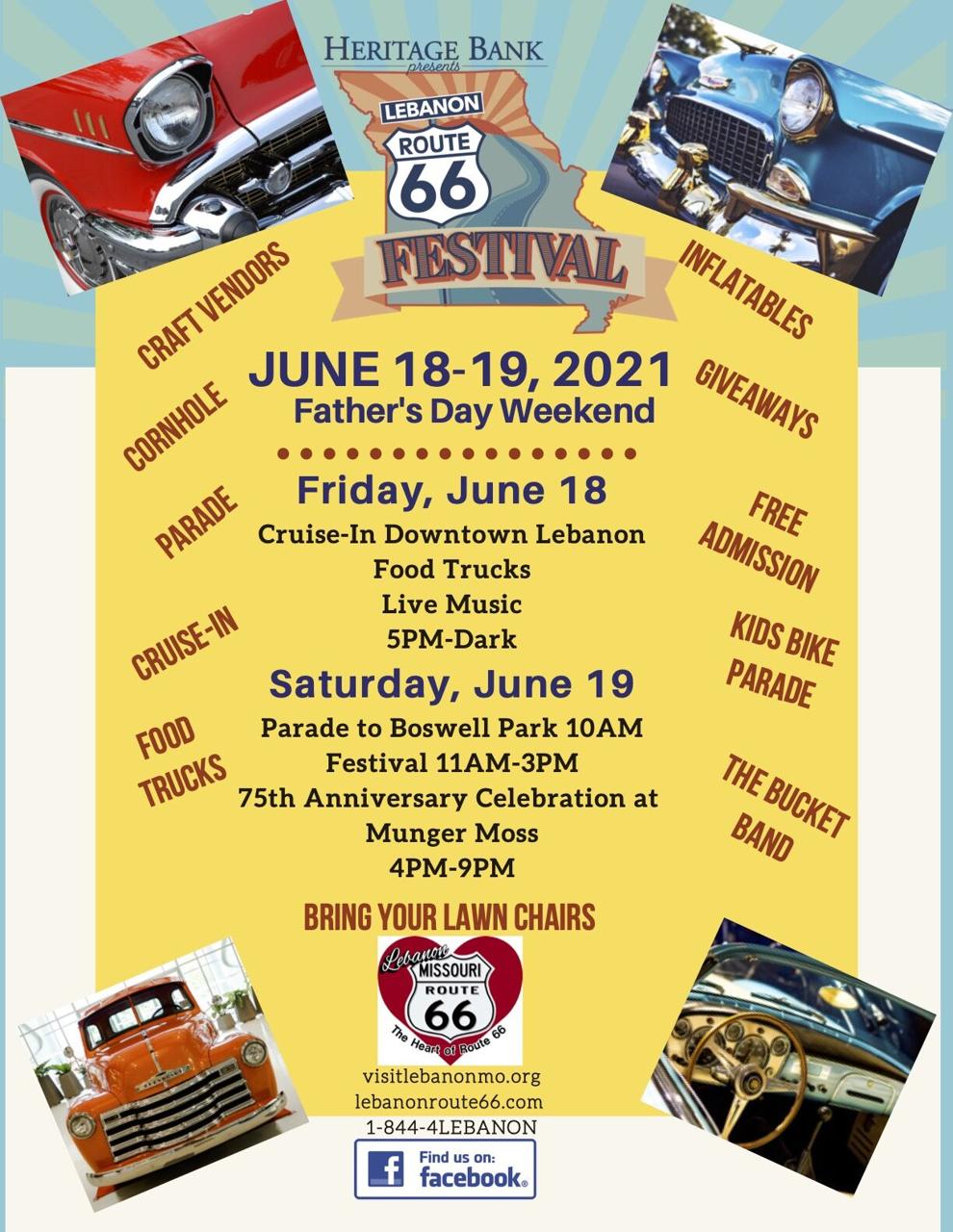 This year's festival is Lebanon's 14th, although not in succession. The first Route 66 Festival was in 2001 to celebrate the 75th anniversary of The Mother Road. Fittingly, this year's festival is an official Missouri Bicentennial event with the theme: "200 Years of Missouri, 95 Years of Route 66." It's the fifth year in a row the festival has been held on Father's Day weekend.
"This years' festival is an event that everyone is looking forward to," Jessica Rodden, chairman of the Route 66 Festival Committee, said. "It's a multiple-day event with several locations and something for everyone to enjoy.
"We have a committee that has put in an entire year's worth of time, energy and effort to ensure our community has a long-standing event that will be around for generations."
Activities Friday night will be in downtown Lebanon hosted by the Lebanon Downtown Business District. Daytime activities on Saturday will be at Route 66-themed Boswell Park and are hosted by the Lebanon-Laclede County Route 66 Society in partnership with the Lebanon Parks and Tourism departments. The festival moves to the Munger Moss Motel at 4 p.m. Saturday to celebrate the 75th anniversary of the internationally known motel.
Lawn chairs are recommended for all events.
Here's everything you need to know about this year's festival:
Friday, June 18 — 5-10 p.m. in Downtown Lebanon
Route 66 Festival Downtown Cruise hosted by the Lebanon Downtown Business District on Commercial Street between Washington and Jackson.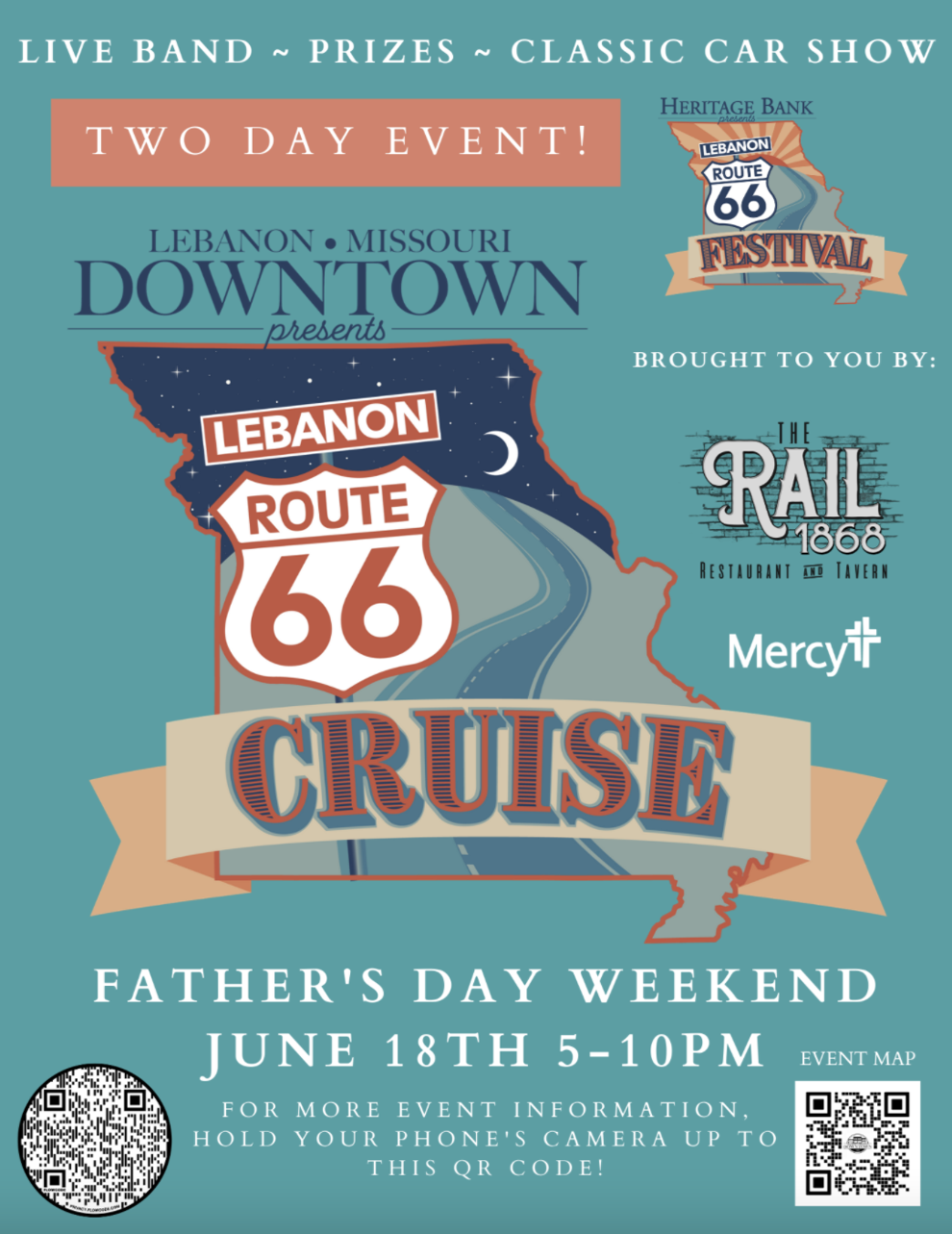 "Downtown Lebanon is excited to partner with the Lebanon-Laclede County Route 66 Society and host the first Downtown Cruise as a portion of the annual Route 66 Festival," Ashton Light, executive director of the Downtown Business District, said.
"This is a great opportunity to bring tourist traffic and locals alike into our Downtown. There has been so much progress made lately, and we cannot wait to show it off. We hope that this is an event and partnership that can grow each year."
Commercial Street will close to traffic between Washington and Jackson at 4:30 p.m. Jefferson (Highway 5) remains open.
PARKING: Free parking is available in lots between Commercial Street and the railroad tracks, in the parking lot east of The Market (farmers' market) and on side streets.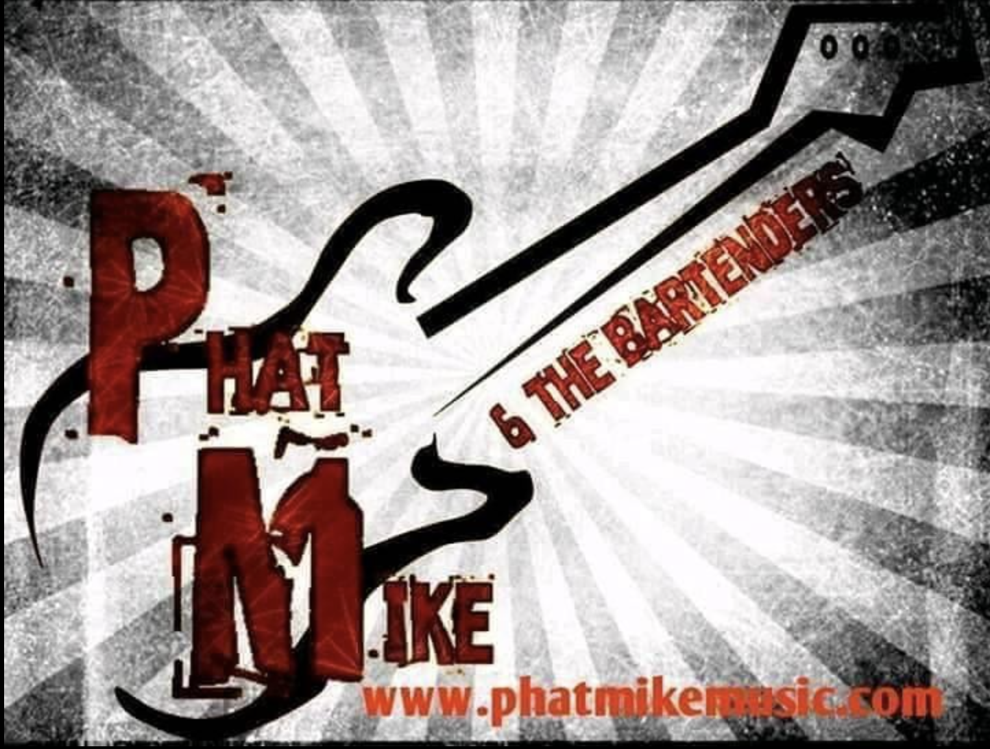 CRUISE-IN: Classic cars will park on both sides of Commercial Street between Washington and Jackson. They may enter Commercial from Washington on the east and Jackson on the west.
MUSIC: "Phat Mike and the Bartenders" will perform from 6 to 10 p.m. on the main stage at Commercial and Madison streets. The band describes itself on Facebook as "serving up a soulful helping of rock and blues with a few sides of R&B, funk, and some original music for dessert!" On the east end of Commercial, EMJ DJ will play Sock Hop '50s music from 6 to 9 p.m. on the stage near Realty Executives.
FOOD: Food will be available at the Commercial Street restaurants and from food trucks at The Market.
SPECIAL EVENTS: Custom souvenir T-shirts and passports will be available at Adams and Madison streets and at The Market. T-shirts will be available in two colors for $20. Passports are available for $5. The passports include 15 stops at Downtown businesses, each representing a historic site along Route 66 in Laclede County. Stop in each business to get a stamp. Turn your passport in at the end of the night for the chance to win prizes. The first 25 to turn in their passport with 10 of the 15 businesses stamped will receive two tickets to enter to win a custom Route 66 pendant necklace made and donated by Layla's Fine Jewelry and Repair and/or a one-night stay for two people at the Guest Apartment by Commercial Street Studio. The first 25 also will receive a Downtown Lebanon tumbler. Each participant also will receive an entry for every five stops to be entered to win one of three gift baskets valuing over $150 each. The items in the gift basket are donated by the participating Downtown businesses. Other activities include a hula-hoop contest at Falcon Floor Covering, swing-dance lessons at Rewind Fast Forward, free temporary tattoos for kids at Rebel Ink Tattoo, snacks and more at Vintage Flower Market, kids' activities at Realty Executives, a kissing booth with Hershey Kisses at Shades of Gray Boutique, live art demonstrations on the sidewalk along with craft booths inside of the Lebanon Art Guild, and a sidewalk market at The Cowlick Dry House until 7 p.m. Many retail stores are having special sales for the event.
Saturday, June 19 — 9 a.m. - 3 p.m. at Boswell Park
Route 66 Festival at Boswell Park hosted by the Lebanon-Laclede County Route 66 Society in partnership with Lebanon Parks and Recreation and Lebanon Tourism. In case of rain, events will be moved indoors to the Cowan Civic Center.
PARKING: The parking lot behind the stage will be reserved for cars with handicap permits and, early in the morning, for parents of children participating in the bike parade. No parking is allowed on Kent Drive to make room for the shuttles. Parking is recommended in the Lebanon Aquatic Center lot, the Trinity Lutheran Church lot, the Nelson Lake lot and at the Lebanon Special Road District lot. Free shuttles will start running up and down Kent Drive at 9:30 a.m.
PARADE AND CRUISE-IN: More than 150 classic, antique and custom cars are expected to participate Saturday in the Route 66 Parade. "Any and all old classic or unique vehicles, including motorcycles, are welcome to join the parade," Leland Townsend, one of the parade organizers, said. "They do not have to be perfect, just able to drive 25 mph along the parade route." No pre-registration is required. Lineup will start at 9 a.m. on Wyota Drive in the Lebanon Industrial Park, east of Laclede Electric on Route 66. Norma Bledsoe, who has lived on Route 66 for more than 50 years, is this year's grand marshal. The parade will roll at 10 a.m., heading west on Route 66, past Boswell Park, to Utah Street, then to Kent Drive where it will enter Route 66-themed Boswell Park for a cruise-in that continues until 3 p.m. Drivers who want to participate in the cruise-in but not the parade may enter Boswell Park at the end of the parade. No vehicles may enter 66 Mural Drive beforehand. Each driver will receive a free ticket for the $66 drawings to be held hourly at the park. "Trophies will be given away, but not the usual kind of show trophies," Townsend said. "Trophies are given in good humor to chosen vehicles, such as the vehicle most likely to receive a ticket on the way home; the vehicle most likely to catch fire; the vehicle most likely to need a wrecker, and so forth."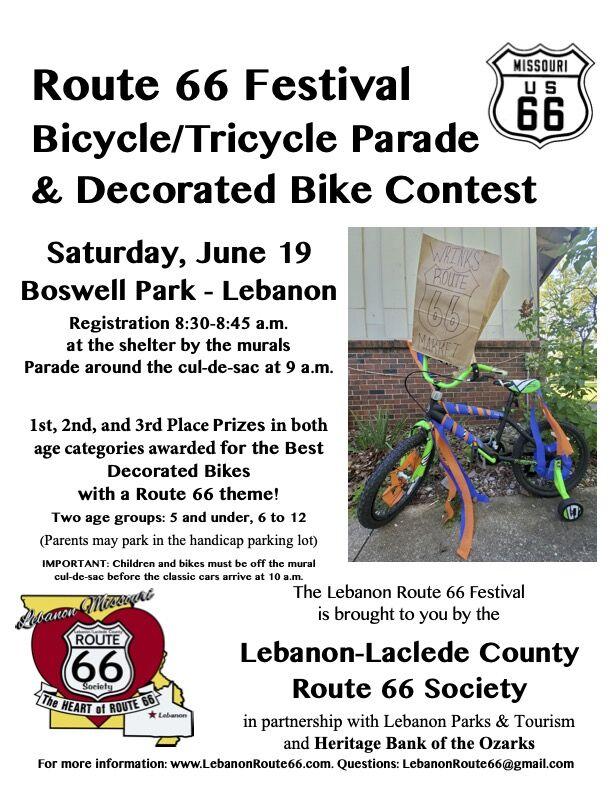 BIKE PARADE: The Route 66 Festival Bicycle/Tricycle Parade and Decorated Bike Contest returns to Saturday morning of the Lebanon Route 66 Festival this year. Registration is from 8:30 to 8:45 a.m. at the shelter near Boswell Park's Route 66 murals. Parents may park in the handicap lot behind the new amphitheater until the bike events are finished. First-, second- and third-place trophies will be awarded in two age categories — 5 and younger and 6 to 12 — for the best bikes decorated with a Route 66 theme. Trophies will be presented from the stage during the 11 a.m. program. "I have a secret judge who is ready to judge the bikes," Rachelle Jennings, event chairman, said. At 9 a.m., bikes will parade around the mural cul-de-sac. Jennings said she is being assisted by Cub Scouts who, among other duties, will lead the younger children around the cul-de-sac. Children and bikes must be off the cul-de-sac before the classic cars arrive with the Route 66 Parade shortly after 10 a.m. No cars will be allowed in the cul-de-sac and 66 Mural Drive until the parade arrives.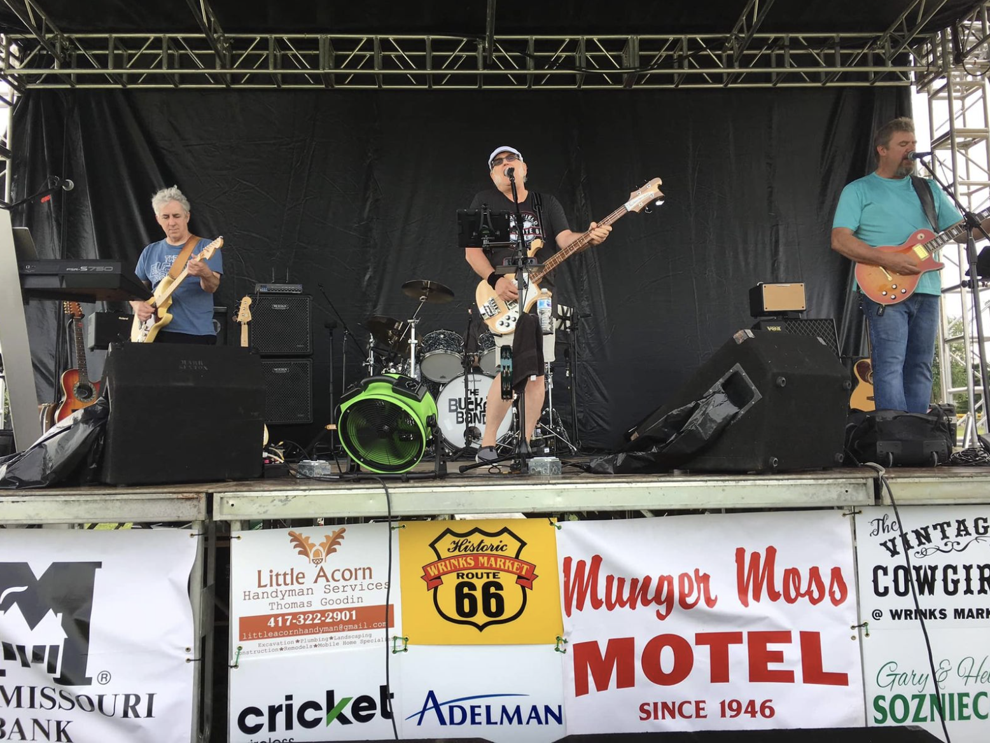 PROGRAM: At 11 a.m., Saturday's events officially open with a program on the stage featuring a Color Guard Presentation of Arms; the National Anthem sung by Christina Ruble; a welcome from Mayor Jared Carr; a welcome from Kim Light, president of presenting sponsor Heritage Bank of the Ozarks; and the presentation of decorated-bike trophies. KJEL's Mike Edwards is master of ceremonies. (Unfortunately, the park's new amphitheater will not be completed in time for the festival because of a missing part. The picnic shelter near the playground will be used as a makeshift stage for the day.)
MUSIC: What goes better with the classic cars and nostalgia of a Route 66 Festival than the Top 40 hits of the 1960s and early '70s? That's why the Lebanon-Laclede County Route 66 Society again has booked The Bucket Band to perform from noon to 2:30 p.m. The band previously performed at the 2019 Route 66 Festival. Here's how the band describes itself: "The Bucket Band consists of veteran musicians from the Kansas City area who have been playing (in other bands) for 40 or more years. We all grew up listening to Top 40 radio (basically WHB in Kansas City) during the '60s and early '70s. While we all agree there's some great music from the late '70s and beyond, our main focus is the time when Top 40 Radio reigned supreme. When the 40 Star Survey always had 39 great songs (there was always one clinker — face it, nobody wants to hear Chuck Berry's "My Ding-a-Ling" ever again). To learn these songs, we started from scratch. Instead of, 'Oh yeah, I kinda remember how that goes,' we've dissected the songs as if they were brand new to us, learned the harmonies and all the instrumental details that made the songs special to begin with. We aim to bring back the magic that you felt when you first heard these songs years ago. We're more like a tribute band, except that we don't stick to covering just one group. We cover an era."
FOOD: Food trucks at Boswell Park plus nearby restaurants on Route 66 (Elm Street) and downtown.
SPECIAL EVENTS: From 11 a.m. to 3 p.m., you'll find crafters, food trucks, games led by the National Guard, face-painting and inflatables. Official Route 66 Festival T-shirts will be on sale for $15 (largest sizes slightly more) by the Route 66 Society, which also will be selling custom Route 66 caps for $15. Each purchaser gets a free ticket for the drawings. Lebanon Elks Lodge No. 2557 will hold a cornhole tournament. The restored Camp Joy cabin will be open for visits. Drawings for two $66 cash prizes will be held each hour on the stage.
IF IT RAINS: All Saturday daytime activities will move to the Cowan Civic Center exhibition hall and foyer if rain is severe enough that events can't be held in Boswell Park. In that unlikely circumstance, events will be held at the same time as scheduled starting with the Bike Parade registration from 8:30 to 8:45 a.m. in the exhibition hall. Following the Bike Parade, classic cars will park inside the exhibition hall. Booths will be set up in the foyer. The band will perform from the mezzanine. If weather is threatening, festival officials will make a decision at 7 a.m. Listen to KJEL and watch LebanonRoute66.com and social media for updates. The festival never has been rained out since Saturday events have been held at Boswell Park.
Saturday, June 19 — 4-9 p.m. at the Munger Moss Motel
A celebration of the 75th anniversary of the Munger Moss Motel in Lebanon and the 50th anniversary of its ownership by Ramona and the late Bob Lehman, hosted by Ramona Lehman and the Lebanon-Laclede County Route 66 Society.
Ramona Lehman long has wanted a big party for the 50th anniversary of her ownership of the legendary Munger Moss Motel, which officially was June 1. And she'll get it Saturday night. The motel is booked solid with Route 66 "roadies" who are traveling from all over the United States to share the occasion with Lebanon's Queen of Route 66.
"For years I said if I could just get to 50, and here it is, 50," Ramona said. "There are so many memories. I've had a good life."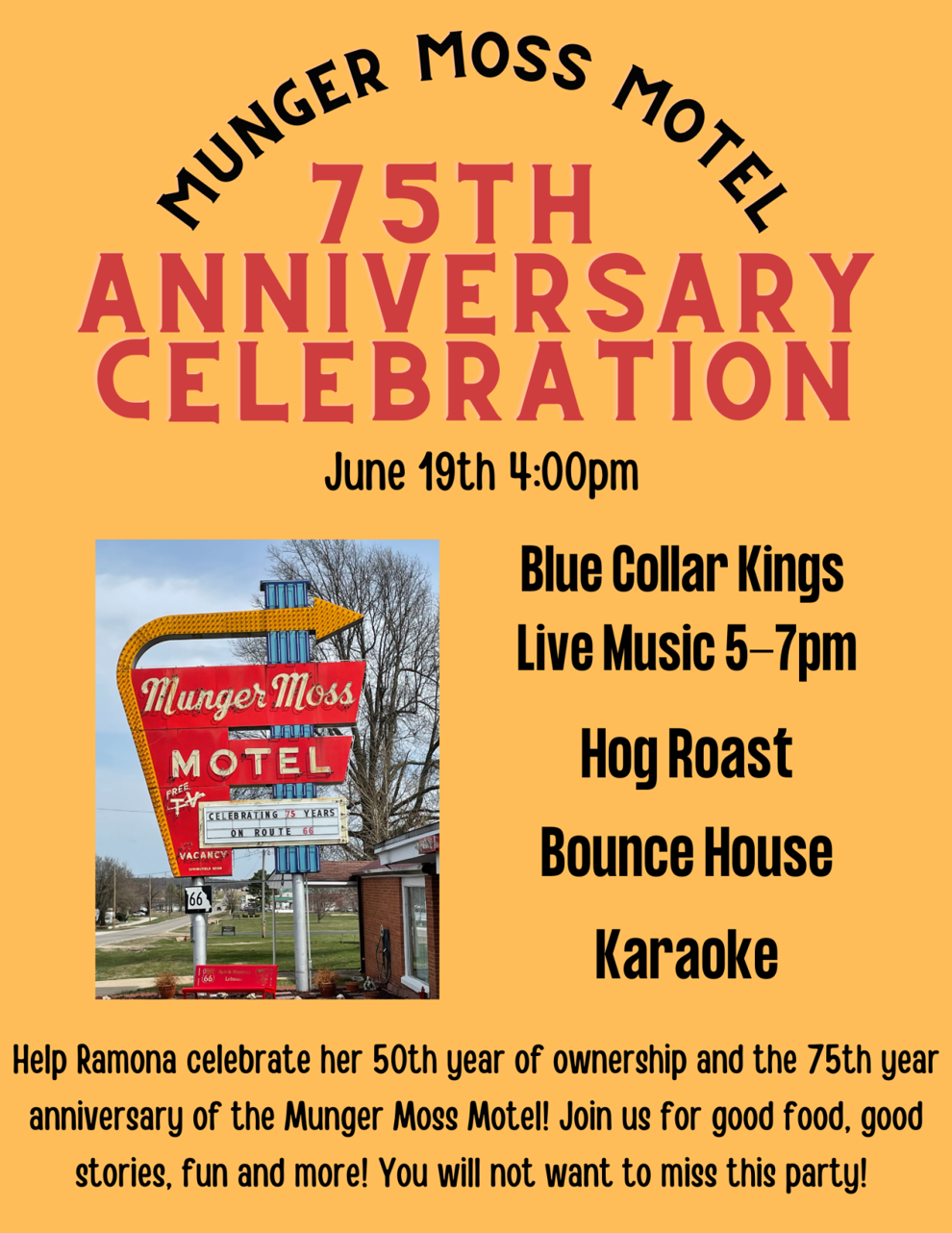 Ramona has told the story of the Munger Moss many times, including in a new interview in Wednesday's Laclede County Record. Here are some of the others: http://www.lebanonroute66.com/yesterday_66/ramona-lehman-remembers-the-munger-moss-through-the-years/collection_863aeae8-3999-11e7-ba5d-c7dcb27a9321.html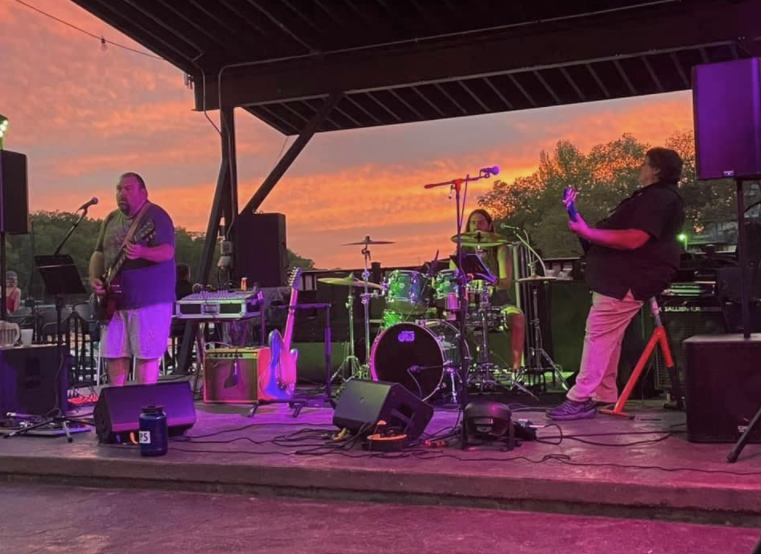 CRUISE-IN/OTHER PARKING: Classic vehicles should park in front of the Munger Moss and the vacant office building to the west. Others should park across the street at the former Forest Manor Motel and on the shoulders of Route 66.
MUSIC: The Blue Collar Kings, a classic-rock, blues and country band that performs frequently at the Lake of the Ozarks, will provide entertainment from 5 to 7 p.m. on the Munger Moss patio. "We play an eclectic mix of blues, four decades of rock, R&B soul and country favorites," the band says on its Facebook page. Karoke is planned for later in the evening.
FOOD: Ramona is hosting a hog roast starting at 4 p.m. The pork will be free to guests spending the night at the Munger Moss; others are asked to make a donation. Also, the Laclede County Shrine Club will serve funnel cakes and snowcones.
SPECIAL EVENTS: Kids can play on inflatables. New Munger Moss T-shirts will be available in the office for $20 each. State Rep. Suzie Pollock will make a presentation to Ramona at 4:45 p.m., before the band plays. During the band's break, about 6 p.m., the Route 66 Society will present 75th-anniversary plaques to Orchard Hills Package Store and the Munger Moss. The Route 66 Society also will present Ramona with an anniversary cake.
Reflecting on the two days of events, festival chairman Jessica Rodden said: "This festival will be the talk of the town for its history, nostalgia, and memories for all!"
Two other Route 66 businesses have announced festivities for Saturday evening:
—The Vintage Cowgirl at Wrink's Market will host its monthly Park it at the Market Cruise-in, a partnership with the Rusty Bones Car Club. Activities will include food, a petting zoo, pony rides, Randall's Water Works, inflatables, live music, yard games and hay rides.
—Tires, Brakes and More will have a burn-out pit.