Old memories will be relived and new memories will be made this weekend at the second annual Lebanon Route 66 Festival.
Activities are scheduled for Friday evening and Saturday, but a museum of Route 66 memorabilia will open at noon Thursday. (NOTE: The Lebanon-Route 66 Museum and the new library didn't open until 2004.)
Most festivities will be at the Cowan Civic Center on East Elm Street, which carried Route 66, The Main Street of America, through Lebanon from 1926 until 1957 when Interstate 44 was built.
The museum will be open from noon to 8 p.m. Thursday and Friday and 9 a.m. to 7 p.m. Saturday.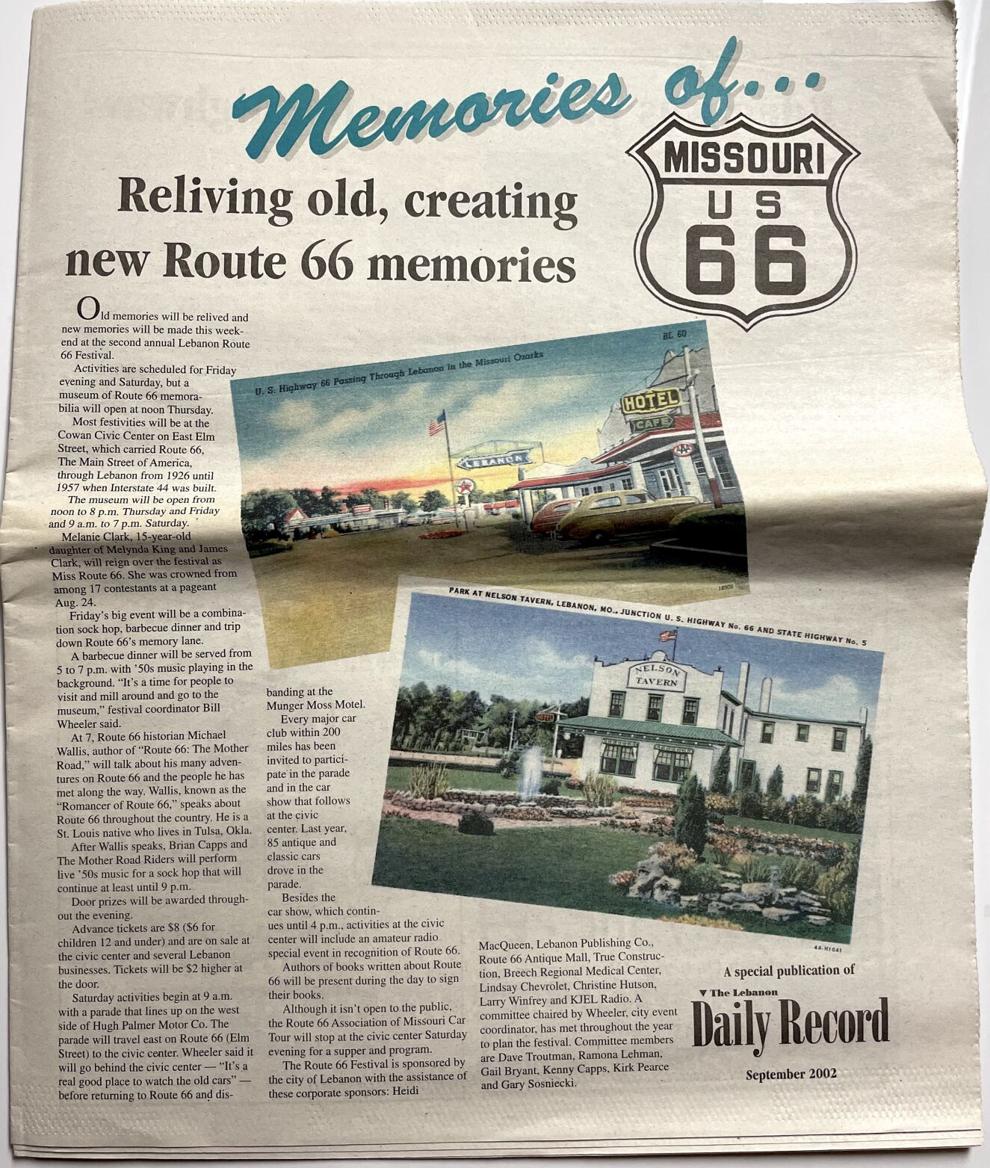 Melanie Clark, 15-year-old daughter of Melynda King and James Clark, will reign over the festival as Miss Route 66. She was crowned from among 17 contestants at a pageant Aug. 24.
Friday's big event will be a combination sock hop, barbecue dinner and trip down Route 66's memory lane.
A barbecue dinner will be served from 5 to 7 p.m. with '50s music playing in the background. "It's a time for people to visit and mill around and go to the museum," festival coordinator Bill Wheeler said.
At 7, Route 66 historian Michael Wallis, author of "Route 66: The Mother Road," will talk about his many adventures on Route 66 and the people he has met along the way. Wallis, known as the "Romancer of Route 66," speaks about Route 66 throughout the country. He is a St. Louis native who lives in Tulsa, Okla.
After Wallis speaks, Brian Capps and The Mother Road Riders will perform live '50s music for a sock hop that will continue at least until 9 p.m.
Door prizes will be awarded throughout the evening.
Advance tickets are $8 ($6 for children 12 and under) and are on sale at the civic center and several Lebanon businesses. Tickets will be $2 higher at the door.
Saturday activities begin at 9 a.m. with a parade that lines up on the west side of Hugh Palmer Motor Co. The parade will travel east on Route 66 (Elm Street) to the civic center. Wheeler said it will go behind the civic center — "It's a real good place to watch the old cars" — before returning to Route 66 and disbanding at the Munger Moss Motel.
Every major car club within 200 miles has been invited to participate in the parade and in the car show that follows at the civic center. Last year, 85 antique and classic cars drove in the parade.
Besides the car show, which continues until 4 p.m., activities at the civic center will include an amateur radio special event in recognition of Route 66.
Authors of books written about Route 66 will be present during the day to sign their books.
Although it isn't open to the public, the Route 66 Association of Missouri Car Tour will stop at the civic center Saturday evening for a supper and program.
The Route 66 Festival is sponsored by the city of Lebanon with the assistance of these corporate sponsors: Heidi MacQueen, Lebanon Publishing Co., Route 66 Antique Mall, True Construction, Breech Regional Medical Center, Lindsay Chevrolet, Christine Hutson, Larry Winfrey and KJEL Radio. A committee chaired by Wheeler, city event coordinator, has met throughout the year to plan the festival. Committee members are Dave Troutman, Ramona Lehman, Gail Bryant, Kenny Capps, Kirk Pearce and Gary Sosniecki.
(NOTE: This committee evolved into the first board of the Lebanon-Route 66 Society, which was incorporated as a nonprofit with the State of Missouri on Jan. 9, 2003.)